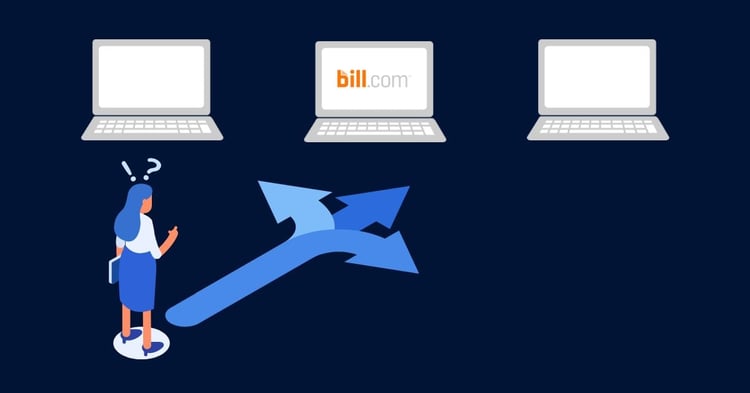 Looking for alternatives and competitors to Bill.com? Here we provide a list of strong alternatives to find the best AP automation software solution for you. Successful businesses around the world use payment automation software to manage their accounts payable process and whether your priority is affordability, efficiency or value, there are plenty of platforms to choose from.
Established in 2006 and one of the first payment automation software solutions on the market, many businesses may start with Bill.com as a lightweight bookkeeping solution but ultimately decide, for one reason or another, that the solution no longer works for them.

Sign up for a Free Trial today.
SHORTCUTS
Reasons to look at alternatives. Is

Bill.com

right for you?
You have your own reasons for looking for an alternative, but two of the big reasons most customers make the switch from Bill.com are:
Limited features
Bill.com struggles to process multiple payments at scale. If you're a small business that deals with a larger volume of payments, Bill.com doesn't make the process very seamless. It also has limits on the customization of user permissions and doesn't reconcile with all accounting software seamlessly (this depends on the tier).
Too expensive
Bill.com pricing starts at $45 per user, per month for only a small number of features. For a platform with this many limitations, the price tag may not be worth the cost. There are plenty of other software solutions that offer similar or better features, at price points and pricing models that make more sense for small businesses and teams of all sizes.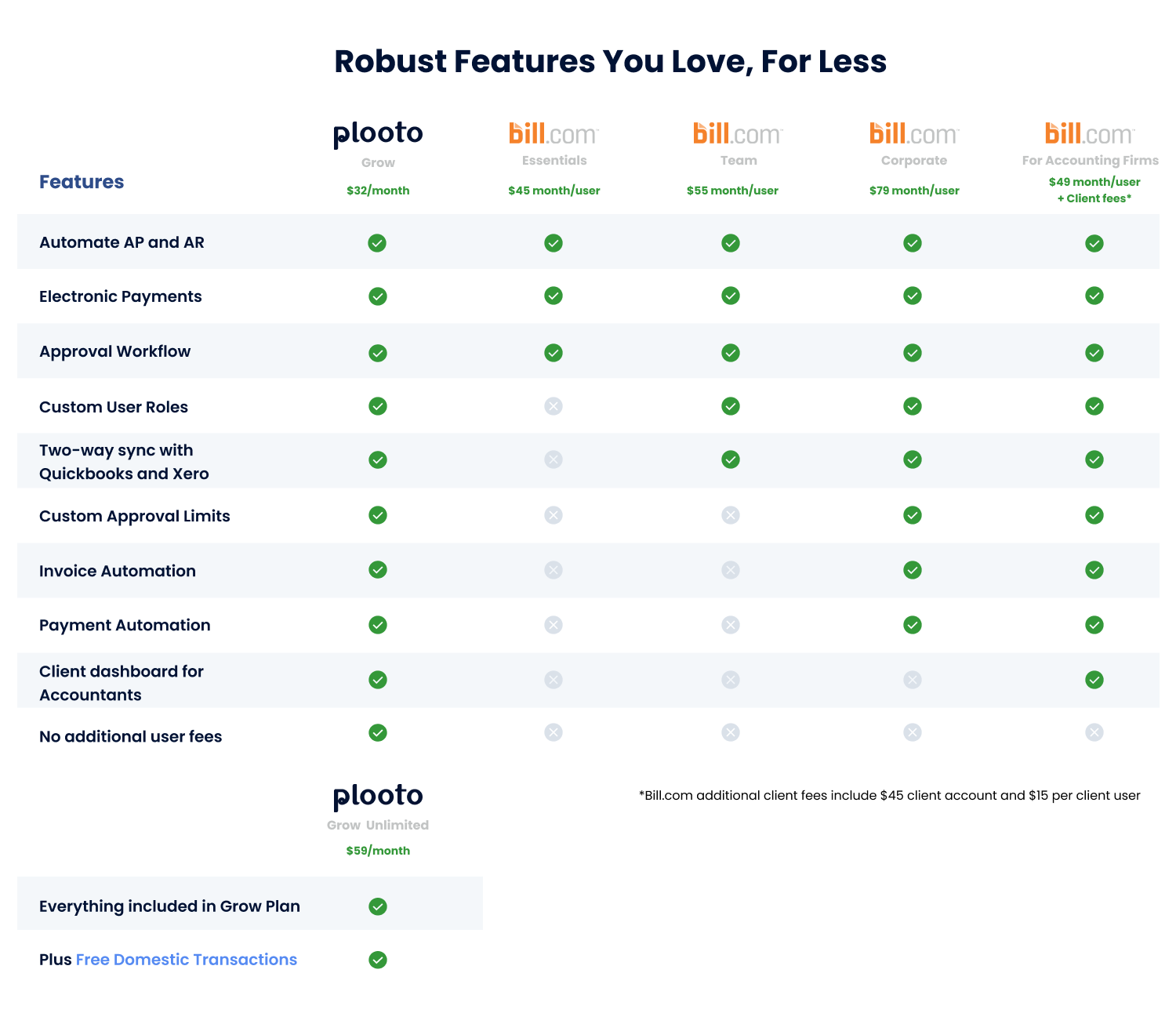 Now, let's look at four competitive solutions to Bill.com, highlight what they do, their strengths and pricing models.
Tipalti
Tipalti is a payment processing solution that helps automate the entire process of making payments to suppliers and partners around the world. The end-to-end solution functions in a unified cloud platform with built-in tax compliance. It also helps users with supplier management, procurement, invoice management, global payments, accounts payable reporting, reconciliation, ERP integrations and more.
Known for:
High-level view of the AP process with an intuitive and user-friendly dashboard
Self-service onboarding and tax compliance validation
International payments at scale and the reduction of fraudulent payment risk
Speeding up financial close with instant payment reconciliation down to the transaction level
Reducing payment errors
Who's it for:
Small, medium, or enterprise companies
Pricing:
Available upon request
Demo only; no self-start free trial
Founded in 2010 and based out of San Mateo, California, United States.
What others are saying:
"Before Tipalti, the process was painful—it took up to 15 days to close the books. Now, processes that used to take our team 1-2 weeks are being completed in 1-2 days."
– Toni T., Controller, United Language Group
Bottom line:
Great if your business is at the rapid expansion and scaling phase. Tipalti's services are plenty – if not a little overwhelming on first glance – but they are well equipped to help you take your business from small, to medium, to enterprise.
Plooto
Plooto is a powerful accounts payable and receivable platform that helps a business gain total control and visibility into cash flow management. It supports thousands of vendors, suppliers and businesses with enhanced financial controls that keep operating costs low. Plooto facilitates faster AR and AP cycles, reduces errors, and lowers costs per transaction.
Known for:
Quick vendor payment
Receives payments within 2 days
Secure cheque payments and credit card acceptance
Accounting integrations with Quickbooks (online and desktop) and Xero
Bank-level security
International payments across 45+ countries with a flat fee per transaction, from the comfort of your home
Low-cost monthly subscription
Approval rules (with full audit trails)
OCR Invoice reading technology (i.e., Plooto Capture)
Great support via Live Chat, Email and Phone
Who's it for:
Small to medium-sized businesses
Pricing:
Starting at $32/month and includes 10 free domestic transactions during your first 30 days

Free trial with access to all features with a demo/training session
Founded in 2015 and based out of Toronto, Ontario, Canada
What others are saying:
"I tell my clients, 'if you want to eliminate checks and make everything electronic, you can't do it without Plooto."
– David D, President and CEO, Envolta
Bottom line:
Plooto helps businesses simplify, automate and reconcile in an efficient and cost-effective way. It's an end-to-end solution with all the features you need to run a smooth AP and AR process in one monthly fee. Plooto saves businesses on average 15 hours per month and $2500 dollars. Over the last year, Plooto has launched credit card receivables and Plooto Capture, and is continuously pushing for new releases to focus on a one-stop solution for its clients.

Stampli
Stampli is an invoice processing/ invoice management software that makes the accounts payable process fast, easy, and a scalable solution that streamlines approvals across departments. The cloud-based platform centers communications on the top of each invoice, resulting in a 5x faster approval rate. Awarded #1 in Customer Satisfaction, AP Automation Leader, and Top 100 Software Product on G2 in 2022.
Known for:
Centered communications at the top of invoices to improve approval rate
Easy onboard and set up
Seamless AP automation and financial management
AI that helps make processes easier by learning your business' workflow
Who's it for:
Small to medium-sized businesses
Pricing:
Available upon request
Demo; no self-start free trial
Founded in 2015 and based out of Mountain View, California, United States.
What others are saying:
"Stampli has enabled us to eliminate late payments, late fees, and disruption to services. There's no shuffling of papers or concerns about data entry errors because Stampli AI eliminates data entry."
– Dan S., Vice President and Controller at NESPSA
Bottom line:
Stampli is a strong AP automation platform with clout and some different ways of positioning their user experience. Using them is entirely a matter of preference on the finer details of an AP automation software.
Beanworks by Quadient
Beanworks AP Automation empowers accounting teams by reducing data entry and approval follow-ups, making accounts payable more cost-effective and less prone to errors. Customers can strengthen controls and manage financial workflows related purchase orders. Instantly find any AP document with a flexible global search and seven years of digital storage.
Known for:
Centralizing expenses and accounts payable
Ability to approve invoices from anywhere using their mobile app
Eliminating data entry through automation
Safely uploading and storing receipts digitally for up to seven years
Adding unlimited users
Who's it for:
Small, medium, or enterprise companies
Pricing:
Available upon request
Demo; free trial with very limited features
Founded in 2012 and based out of Vancouver, British Columbia, Canada
What others are saying:
"We would be doing invoices every single day, whereas now I can break it up between two days and I can work on my other tasks those other three days."
– Paige Z, AP Clerk, Home Point Financial
Bottom line:
A fairly solid AP automation entry with a decade of experience in the market. Great for just about any business, with a standard set of features to help your business and financial operations succeed.
Plooto helps businesses manage their invoices and payments from a centralized place and has a myriad of features to suit every small business need. International payments can be made to about one-third of all the countries in the world, across electronic and cheque payment methods. With accounting software integrations, Plooto's auto-reconciliation feature keeps your financial records (and accounting system) up to date — when you get paid, your books are updated automatically.
Plooto ultimately makes the AP process smooth, saves your business time and offers its full suite of features at one monthly subscription price. Plooto's end-to-end platform is simple, easy to access, and caters to both large enterprises and small businesses. While Bill.com had a great start to the AP automation software business, it lacks the ability to help businesses scale quickly and cost-effectively, leaving an opportunity for your business to thrive with another software solution.
What to look for in your next AP automation solution?
You know it's time to look for a new automation platform, but don't want to make the switch only to discover you're in the same challenge you faced with Bill.com. It's important to choose a payment automation software that truly fits your business's needs, sets up ideal payment processes, and will help your teams succeed at scale.
Current workflow
Audit your current AP process to better understand what goes into completing each step and who owns them. You'll want to line up software features to your existing workflow to ensure the solution is solving the challenges you face. Take into consideration whether you'll need the capability to send international payments, or comply with specific tax requirements.
Implementation and onboarding
What does the process look like to get you from purchase to first value? How long does it take to send your first payment? What steps were involved? Installing a new solution, populating it and linking to all your financial accounts could take some time, so the more you understand the onboarding process, the better.
Scalability
If you choose a software provider today, will it still be able to adequately service your business a year from now? Five years from now? Does your next software solution offer growing businesses the ability to scale and what is the cost of doing so.
Tech integrations
Look for platforms that seamlessly integrate with your current tech stack, especially your accounting software. This reduces the friction in the AP process. Be mindful also of how data is backed up and can be transferred to other software platforms, should you choose to make a switch in the future.
Security
Critically important is to ensure you are as safe as possible from risk and fraud. Your software provider should have safeguards in place to protect you from attacks. Consider also how your data is backed up, where and when, as well as how often bugs and security patches are updated.
Customer service and support
Some business owners love to navigate new software at their own pace, while others prefer a more hands-on approach. Consider the level of support you can expect from a potential vendor and whether they have a robust enough knowledge center to allow you to troubleshoot challenges yourself, in the event you can't get a hold of a live agent.
Cost
One of the biggest items you'll evaluate in a new solution is its financial cost to your business. Whether it's a recurring subscription or a pay-as-you-go model, the solution should give you the most possible benefit for the lowest cost. You should also be mindful of transparent pricing as businesses should be privy to exactly what they are paying for.
Free trials
You'll never truly understand the capability of a solution unless you experience it first hand. Whenever possible, utilize free trials to better understand whether the solution has all the features you need, whether it's missing key features you wish it had or whether there are too many features you won't end up using. If possible, negotiate extensions on free trials to get a little extra time with the platform.
Still window shopping for an accounts payable automation solution? Book some time to chat with a product specialist at Plooto.
Sign up for a Free Trial today.
CHAPTERS
00 Considering online payment software? Payment automation explained
01 Accounts payable software: A guide for strategies, benefits, and solutions
02 Best Bill.com Alternatives in 2022