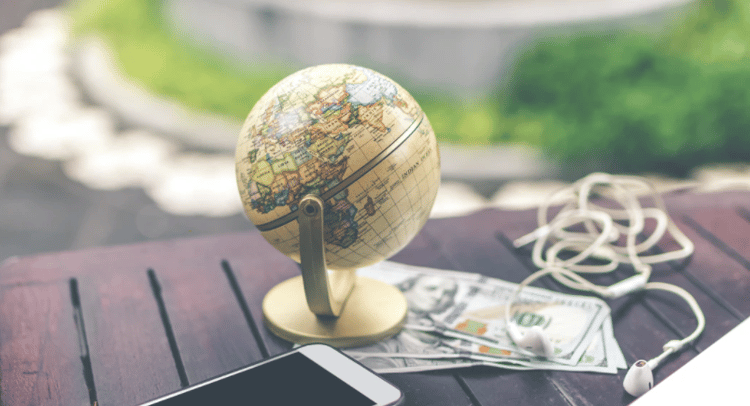 The evolution of international money transfers has a rich and varied past that has transformed with the advancement of technology and the progression of people moving abroad from continent to continent. As the world becomes increasingly connected, more and more people or businesses need to send money abroad for any number of reasons. There is a growing need for overseas business-related payments, including paying employees or invoices with company partners located in other countries.
As more advanced technology is created, we've become more connected than ever, making it easier now to transfer money around the world. Today, there are numerous ways to send money internationally, including mobile apps that allow you to easily make online money transfers between banks, domestically and abroad, without much hassle. But, often these transfers come with a high cost associated to them.
What are the charges for international transfer?
Money transfer fees can vary depending on the service provider. Banks typically charge a fixed money transfer fee when sending money internationally. The fee will depend upon the bank and the amount of money sent. In addition, some banks will charge a different rate depending on the currency transferred. Expediting the transfer of funds might generate an additional fee.
If you're using a money transfer service, some charges will depend on how you're sending the money: whether it's from a funded account, a credit card, or a debit card. Besides the international transfer fee, the service provider will add a margin on the daily exchange rate to most foreign transfers.
What factors impact the cost of international bank transfer fees?
Several factors impact the cost of international bank transfer fees. Foreign exchange rate changes can vary depending on when the sender makes the transaction. Typically, overseas payments take between three and five days; however, the parties involved will incur extra charges if they want to speed up the transaction. Rates will vary depending on the currencies being processed. Specific locations can be more expensive to send funds to than others. The amount of money being transferred may also influence the fees: the more funds being sent, the better the rate.
The most significant factor affecting the cost of international bank transfer fees is the bank or payment provider being used. Every financial institution has different capabilities that will influence the price of its services.
What is the best way to transfer money internationally?
The best way to send money internationally depends on the sender's priorities: speed, security, value, or a mix of all three.
How to avoid bank fees when sending money internationally
Understand what fees may be applied
When sending money internationally, there are a number of different fees that may apply. For example, there are fixed transfer fees depending on the bank and amount being sent. Fees are also dependent on the currency, where payment is originating from, speed to transfer and may include receiving fees.
Research credit unions
Credit unions, non-profit organizations owned by a group of people, can offer more favorable international payment terms than banks, based on the currencies they natively process payments in.
Research online payment solutions
Online payment software requires you to do a little more work in setting up international payments, but gives you more control over the process. They also typically work on a flat-fee model and don't include all the same fees banks do for international payments.
Is your bank charging you too much for international payments?
We've compiled all international payment fee information for you at the top banks in the US and Canada so you can understand how much it is costing your business to make an international transfer.

Note: Banks charge fees for both sending wire payments and receiving them. You may be charged additional fees by your bank depending on your specific needs. Some banks charge additional fees for advice and service, so it's best to come prepared with everything you need to make an international wire if you want to avoid incurring these fees.
| US Bank | Sending Fees | Receiving Fees |
| --- | --- | --- |
| Bank of America | $35 | $15 |
| Chase Bank | $40 | $15 |
| PNC | $45 | $15 |
| US Bank | $50 | $20 |
| Wells Fargo | $45 | $15 |
| Citibank | $35 | $15 |
| Canadian Bank | Sending Fees | Receiving Fees |
| --- | --- | --- |
| TD Canada Trust | $30 | $17.50 |
| RBC | $20 | $15 |
| Scotiabank | $20 | $15 |
| BMO | $15-$125 | n.a. |
| CIBC | $30 | $15 |
| Tangerine | Not supported | n.a. |
Ever wondered if there is a better option available? Online payments are a cheaper and more efficient option. Competitive rates and a flat fee of $9.99 make Plooto a great option.
International Payments with Plooto
With international payments, Plooto does business where you do business. You can use Plooto to transfer money from Canada or the United States to over 30 countries around the world, complete with competitive exchange rates. You can use Plooto to send payments to the following countries/regions
Australia

Austria

Belgium

Canada

China

Cyprus

Estonia

Finland

France

Germany

Greece

Hong Kong

India

Ireland

Italy

Latvia

Lithuania

Malta

Mexico

Netherlands (Holland)

Philipines

Portugal

Slovakia

Slovenia

South Korea

Spain

United Kingdom (England, Scotland, Wales, Northern Ireland)

United States
At Plooto, we are also continually adding to the number of countries our customers can send money to around the world. The most recent addition? The Philippines!
Don't let borders stop you from running an international business, try Plooto today with a free 30-day trial.
CHAPTERS
00 Best Way to Send International Payments: Stress-Free and Low Cost
01 Things to Consider When Making International Payments
02 An International Payment Solution in the New Digital Norm
03 International Payments, Is Your Bank Charging Too Much?