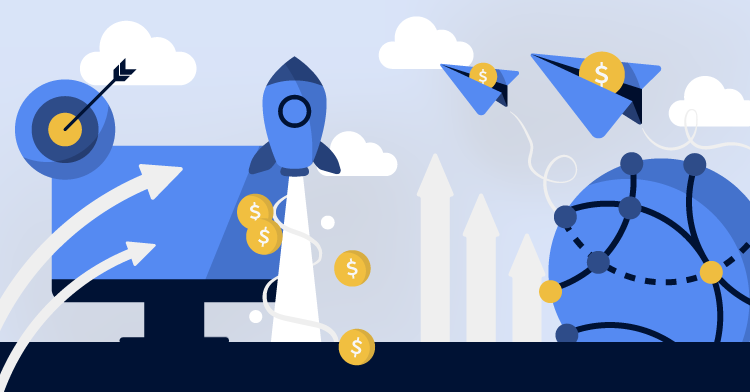 Don't be late — the future of accounts payable (AP) has already started! Innovative use of technology and openness to automate archaic manual processes define today's successful AP departments. AP automation is no longer a luxury: it's a necessity.
What you need to know
Latest technologies coupled with digitally driven workflows will transform AP's capabilities and value, serving as a much more powerful tool in helping businesses succeed
The 4 crucial trends that are driving AP transformation
Why AP will shift from a reactive to a proactive mindset
What will enable AP to take on a more strategic role

Sign up for a Free Trial today.

What's driving AP's transformation?
Skyrocketing payment volume

Increasing cyber security threats

Growing demand to manage multiple payment methods

Greater access to data that informs strategic decision-making
AP automation and the democratization of technology
SMBs can access the same technology powering larger enterprises' invoice capture, code, and automatic approval reminders. You'll continue to hear how artificial intelligence and machine learning will enhance the quality of AP data, delivering greater business value.
A potential line of defense against growing security threats
As the AP team gains access to more quality data faster, finance could play a significant role in supporting the businesses' IT security efforts.
AP: From pushing paper to presenting strategies
As AP gains access to real-time business performance indicators — such as the history of payments, account reconciliation, and cash flow — it will be asked to explain what this data means and how it can drive more informed decision-making and strategic thinking.
Proactive versus reactive problem solving
Online, real-time reports and automated systems will enable AP departments to shift from a reactive model to a proactive model. Real-time reporting will help staff spot problems before they become crushing — or take advantage of opportunities in their nascent stage.
Hi-def cash flow
Automating the AP process supports greater cash flow visibility, enabling businesses to get a clearer picture of their current and future cash flow. Greater cash flow visibility enables the business to create more accurate plans for growth. High cash flow visibility also helps a company optimize its cash conversion cycle a metric that expresses the time (measured in days) it takes for a company to convert its investments in inventory and other resources into cash flows from sales.
Scale without incurring high labor costs
A recent Institute of Finance & Management (IOFM) survey of AP leaders reports that invoice volume is rising. Your business can handle this growing workload by hiring more staff or investing in technology. Hiring more staff can be costly — not to mention time-consuming. Technology enables you to scale more efficiently and respond faster to changing demands. Automation reduces manual workload and error while promoting faster, more efficient payments.
Automate trust building with suppliers
The modern AP department cultivates trust with vendors by using technology to deliver accurate, on-time payments and communicate more effectively. This could include setting up supplier portals to enable the supplier to track delivery schedules electronically, payments received, potential product shortages, and the status of their orders.
Continued focus on application programming interfaces (APIs)
PYMNTS reported that a recent study found that half of all business-to-business (B2B) payments will be sent via APIs by the end of 2023. APIs can help businesses transform siloed manual accounts payable (AP) and accounts receivable (AR) teams into more connected, automated digitally optimized operations.
AP and the brave new world of business
Equipped to capture, collate, and distribute quality data faster, digitized AP departments can respond quickly to new compliance, regulatory, or security demands — even manage problematic supply chains.
"Gigantic shift in B2B buyer behavior"
Michael Vittum, senior manager and go-to-market lead for payments and commerce at HubSpot, told PYMNTS in a recent interview: "Buyers of B2B technology expect to have the same quick, seamless experience that matches [business-to-consumer] experiences offered by companies like Amazon or DoorDash. The pandemic drove this gigantic shift in buyer behavior, and businesses must adapt to that in the post-pandemic world."
How AP departments can plan for future success
1. Create an AP future planning team. Team members should reflect the entire finance operation to ensure all activities are addressed.
2. Adopt a future-proof mindset. Future-proofing is anticipating the future and developing methods to minimize the effects of shocks and stresses of future events — dramatic growth in accounts payable volume, economic downturns, or unexpected expenses. Future-proofing is also about predicting opportunities and rethinking conventional business practices.
3. Visualize and work through the ideal systems to achieve the goals outlined in step 2. This includes:
Redesign, reimagine workflows and processes

Research extensively — and invest in — new technologies
4. Find studies on how other finance teams digitized their operations successfully.
5. Communicate regularly with senior management to ensure the efforts of the AP future planning team are in sync with the future direction of the business.
While it is impossible to have a clear and correct vision of the future, we can already see outlines of what it will take for an AP department to be successful. It will understand changing buyer/seller expectations regarding B2B payments. The successful AP team will use technology strategically to drive greater efficiency and handle ever-increasing volume. Finally, powered by advancing technology, we'll see a shift in AP from being reactive to a proactive operation by collecting, managing and analyzing information to help inform better decision-making.
What was once thought of as an immutable service, AP is evolving into a dynamic and forward-thinking operation.
Plooto can help smooth and speed up your AP team's transition into the future. Plooto offers accounts payable and accounts receivable automation software solutions that enable small to midsize businesses to automate, streamline, and make more efficient their payment operations. Schedule a demo today and learn what's possible in your future.
Sign up for a Free Trial today
CHAPTERS
00 Considering Online Payment Software? Payment automation explained
01 Accounts payable software: A guide for strategies, benefits, and solutions
02 Accounts receivable software: A guide for strategies, benefits, and solutions
03 What is the future of Accounts Payable?