Accounting firm revenue streams are changing. To survive and thrive, they are shifting or adding offerings from tax compliance services to business advisory services to generate new revenue streams for profitable growth.
It's no secret that the accounting profession is changing with the proliferation of digital technology. To stay ahead of the curve, accounting firms are needing to find new and innovative ways to bring in revenue.
In this article, we'll explore all the different accounting firm revenue streams available, including providing consulting advisory services, expanding into new products or markets, and more.
Sign up for a Free Trial today
SHORTCUTS:
4 Accounting firm revenue-stream strategies for growth
1. Market penetration: Expand your existing niches and client relationships
If your accounting firm is looking for ways to grow its business, expanding into new markets should be at the top of the list.
There are a few different ways to go about this. One great way is by leveraging your existing client relationships and business niches into opportunities for expansion.
You could look for new clients in similar industries as your current ones, or you could target related businesses as potential clients. You could also focus on geographic expansions, looking for new opportunities in other parts of the country or world – a digitally remote world makes this easier than ever.
2. Product and service innovation: Create new offerings to align with client needs
In order to stay ahead of the curve, accounting firms must find new and innovative ways to bring in revenue. One great way to do this is by creating new product and service offerings that align with the needs of their clients.
You could look for inspiration from other industries and try to create crossover products that offer your clients something they haven't had before. Or you could survey your clients to see what services they would like you to provide.
3. New market entry: Research and develop new verticals in which to

offer your services
If you're looking for ways to grow your business, expanding into new industries can be a great way to do it. However, before you dive in head first, it's important to do some research and development first.
Make sure that the industry you're targeting is one that you understand well and that there is room for you to compete. Also, make sure that the market is ripe with opportunity – that there's enough of an addressable market to service and scale with. There's no point in entering an industry if there isn't any potential for growth.
4. Develop a more diversified revenue model: Create multiple revenue streams for your firm
Diversifying your revenue streams is a great way to protect your accounting firm from downturns in the economy. When the economy takes a turn for the worse, businesses of all types tend to suffer, but by having multiple accounting firm revenue streams you can insulate itself from these fluctuations.
While specializing in a specific niche or product is a great way to differentiate your business from the competition, try utilizing a combination of the above strategies – expanding into new markets, innovating, creating new products – to help create enough revenue redundancy to stave off economic downturns, and position you for continued growth.
8 Tips for accounting business growth
Now that you've learned a few ways to generate revenue streams for your accounting firm, let's explore some key strategies to help grow your business overall.
1. Know what your clients want and need
While this may sound obvious, it's easy to focus on what you do, versus how you provide value. Knowing what your clients want and need is essential for the growth of any accounting business. That's why it's important to stay up-to-date with the latest trends and technologies, so that you can offer your clients the best services possible. It's also always a good idea to routinely poll your clients on their satisfaction with your service and to even simply ask them what their needs are.
2. Expand your services
As mentioned above, expanding your services across multiple markets, industries and products, is a great way to grow your accounting business. As technology advances, the need for specialized services grows.
3. Hire experts to meet client needs
As the need for specialized services grows, hiring experts to meet client needs is an important step for any accounting business looking to grow. When clients are looking for solutions, they want to be sure they're getting the best advice and service possible, so having the right people in place can help you provide that. It also alleviates the pressure from you personally to do everything yourself.
4. Invest in ongoing education
Investing in ongoing education for yourself and your team is a key step for any accounting business looking to grow. It's important to ensure that your team is always up to date on the latest trends, technologies – and disruptions – so they can always be prepared to provide the best services to your clients.
5. Evolve with new technology
Evolving with new technology is a must for any accounting business looking to stay competitive. Automation is already available at scale in services like Plooto to help you streamline your accounts payable and receivable processes. Tools like artificial intelligence (AI) will play a key role in every business function from analysis to execution in the future. Evolving with new tech also allows you to provide leading-edge service to your clients.
6. Network authentically
As they say, it's more about who you know than what you know. Networking with new and existing clients authentically is an essential component for the growth of any accounting business. In order to build a successful relationship with your clients, it's important to be honest, open and genuine with them. Always be thinking about how you can provide them with value, even outside of the business relationship. This will help you build trust and establish a strong connection with them – and potentially lead to future business.
7. Create strategic partnerships
Creating strategic partnerships can be a great way to benefit your accounting business, as well as the partner companies you work with. Strategic partnerships are formed when two or more businesses collaborate to provide services or products to their respective customers. By forming these partnerships, both parties can benefit from the relationship and grow.
8. Fine-tune your marketing
If you want to see your accounting business grow, you need to remember to focus on your marketing strategy. One important marketing aspect is to ensure your website is up-to-date and looks professional – this is your first impression to potential clients, so make sure it's a good one.
Secondly, use social and digital advertising effectively through relevant keywords in your online ads and SEO campaigns and experiment with different social media platforms and formats. With everything you do in marketing, it's especially vital to track your results and adjust your strategy accordingly.
How CPA Firms can increase revenues with Consulting Advisory Services
First let's explore what accounting firm Consulting Advisory Services are. Consulting Advisory Services (CAS) have become popular in the accounting profession in recent years. But what are they, and why have they become so popular?
Simply put, Consulting Advisory Services are services that accounting firms offer to help their clients improve their business operations. They go beyond just the dollars and cents of a business to focus on a more wholistic approach. This can include anything from helping clients set up new accounting systems, to providing advice on how to expand into new markets.
Accounting firms have become popular for offering CAS because they are experts in financial matters, and can provide valuable advice to their clients on a wide range of topics. In addition, by offering these services, accounting firms can differentiate themselves from their competitors, and attract new clients.
Here are a few ways you can adopt this strategy for your business:
Implement Consulting Advisory Services to daily client accounting
Expanding on the concept of Consulting Advisory Services to be integrated into daily client accounting, accounting firms should focus on developing their ability to provide value-added insight and advice to their clients. This could include offering guidance on how to improve efficiency, reduce costs, or expand into new markets.
Hire a Consulting Advisory Services that has software specialization
Hiring a Consulting Advisory Service with software specialization can be a great way for accounting firms to add value to their services and increase revenues. Such services specialize in providing software solutions tailored to the specific needs of the firm's clients, helping them save time and money when it comes to making financial decisions.
Setup a fixed cost retainer relationship with Consulting Advisory Services
Setting up a fixed cost retainer relationship with Consulting Advisory Services can be an incredibly beneficial move for accounting firms. This type of arrangement entails that the firm pays a predetermined fee each month in exchange for the consultancy's services. With this type of relationship, both parties benefit significantly; the firm has access to a reliable source of advice.
Opt-in for Centralized Consulting Advisory Services
Opting-in for Centralized Consulting Advisory Services is an increasingly popular and beneficial strategy that accounting firms can use to increase their revenues. This type of service provides centralized access to a wide range of expertise, allowing firms to find the best solutions for their clients in a cost-effective way.
Use Offshore Accounting Service Providers (Offshore Consulting Advisory Services) for CPA
Offshore services typically offer lower costs than domestic services, making them an attractive option for accounting firms seeking to reduce costs and improve profit margins. In addition, offshore services often provide access to a wider range of expertise, allowing firms to gain access to specialized advice and expertise that would otherwise be unavailable.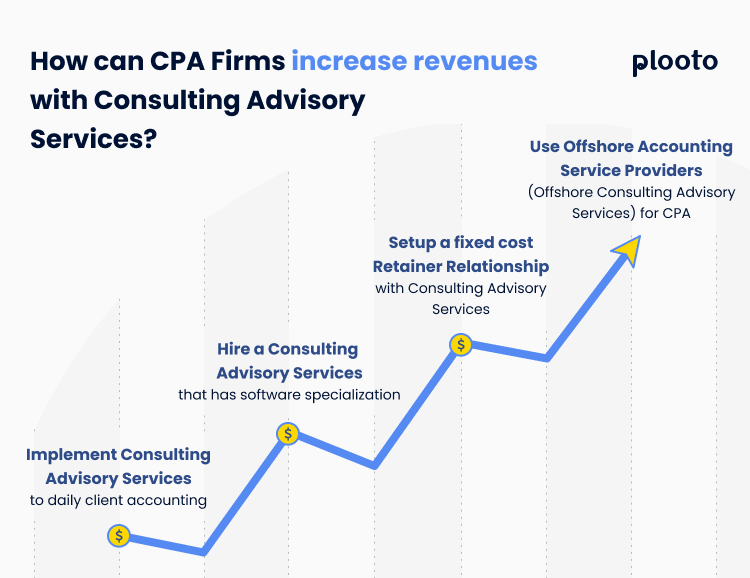 How Plooto's automation helps accounting firms with revenue growth
As an accounting firm, you're always looking for ways to increase your revenue. One great way to do that is by using accounting automation tools like Plooto.
Plooto is a cloud-based software that helps accounting firms automate their invoice and payment processes. This can save firms a lot of time and money, and help them grow their business.
Here are some of the ways Plooto can help accountants increase their revenue:
Plooto helps firms get paid faster. By automating the invoicing process, payments can be processed quickly and easily. This will help you get paid faster, which means more cash flow for your business.


Plooto makes it easy to track payments. With Plooto's online payment tracking system, you can see exactly where each payment is in the process, so you know exactly what's going on at all times. This will help you keep tabs on your finances and make better decisions for your business.


Plooto helps reduce administrative costs. By automating tasks like invoicing and payment processing, you'll save yourself time and money on administrative costs. This will give you more resources to invest.
CHAPTERS
00 Building the modern, automated accounting firm
01 Why digital technology is crucial to an accounting firm's success
02 Creating new accounting firm revenue streams to unlock growth