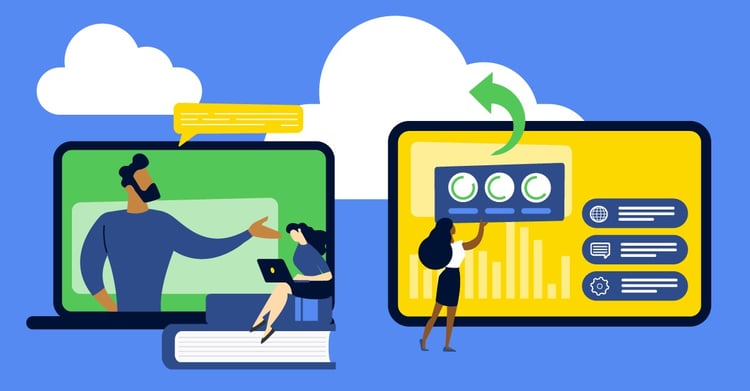 For accounting firms, the changing business landscape, clients' evolving needs, and constant introduction of new technology coming to market can seem overwhelming. Help has arrived! We've created the following guide explaining the leading technologies, their impact on the accounting industry, and the accountant's daily tasks.
Key Takeaways
5 invaluable benefits of digital technology

7 emerging technologies that are transforming accounting

Why digital technology is crucial to meeting dynamic business demands

How technology is changing the role of the accountant

8 actionable steps to modernizing your accounting firm
Sign up for a Free Trial today
SHORTCUTS:
How digital technology is transforming today's accounting firms
At the center of this technological change is cloud computing. By running operations through the cloud, the firm can:
Automate workflows and streamline processes

Centralize data management, making it easier to capture, access, share and analyze data

Reduce waste, lower costs, and expedite operations

Improve communication and collaboration with clients

Eliminate data silos, improving transparency and elevating data quality, even as the quantity of data increases
Through automation, digital technology eliminates laborious and time-consuming tasks and reduces manual errors. By enabling straight-through processing, technology frees accountants to focus on strategic tasks requiring creativity, collaboration, and professional experience.
Accountants could, for example, transform the insights extracted from high-quality data into more effective financial planning and reporting. They can collaborate with other business units through the cloud to leverage financial data to create plans that drive innovation, promote growth, and create efficiencies.
Artificial intelligence (AI) can shape vast amounts of raw data into more manageable formats, providing clear connections among disparate data sources. The combination of AI and human collaboration can contribute to a greater understanding of how the firm's clients are performing — and why — and to more informed, out-of-the-box decision-making.
Ultimately, digital technology is essential to the accounting firm meeting changing business and market demands.
5 key business benefits of digital technology
Documents are stored in a central location to streamline user access and collaboration.




Data can be entered just once and automatically updated throughout all relevant documents.


Automatic saving of work documents to the cloud means information is stored in real-time and remains safe if work is disrupted, and can be recovered easily.


AI can help accountants and their clients spot patterns, predict trends, and uncover insights for more informed decision-making.



By automating and streamlining workflows, technology can solve the problem of a firm facing an overwhelming workload with limited staff.
What digitalization means to accounting firms
Faster, more robust accounting software that integrates with other systems has made managing financial information, analyzing data, and measuring economic activity easier.

Faster and more efficient systems enable firms to serve more clients.

Online 24/7 access to documents enables firms and their clients to connect more conveniently.

Technology has shifted the accountant's focus from repetitive manual efforts to in-depth analysis, advanced forecasting, and strategic planning.

Firms enjoy enhanced security, backup and data retrieval.
In the end, technology enables accountants to achieve what they want most: to scale their firm, reduce manual work, streamline workflows, and offer superior service.
How do today's emerging technologies help accounting firms?
Cloud computing
Cloud computing is the delivery of computing services—including servers, storage, databases, networking, software, analytics, and intelligence—over the Internet. Cloud computing technology gives users access through their internet-connected devices: computers, smartphones, tablets, and wearables. Cloud computing:
Reduces the firm's IT burden

Provides accounting staff and their clients with 24/7 mobile access to shared documents

Automates labor-intensive data entry activities so accountants can focus more on strategic, revenue-generating projects

Dramatically enhances the safety of storing confidential information

Creates the opportunity for staff and clients to collaborate wherever and whenever it's convenient
The Internet of Things (IoT)
The Internet of Things (IoT) describes the network of physical devices embedded with sensors, software, and other technologies to connect and exchange data with other devices and systems over the internet or other communications networks. IoT dramatically expands the number of sources and amounts of transactional data that flow into accounting systems for analysis.
IoT provides accountants with dynamic information collected in real-time to improve decision-making.
Big data
Big data contains large, complex data sets. Big data and analytical tools help accounting firms offer clients more accurate, relevant, and impactful services. Big Data provides opportunities for the firm to deliver more value and help businesses improve their decision-making.
Blockchain technology
Blockchain technology is a digital ledger of transactions that duplicates and distributes across the entire network of computer systems on the blockchain. It deals with transferring ownership of assets and maintaining a ledger of accurate financial information.
The value of blockchain technology in accounting is that it can reduce the costs of maintaining and reconciling ledgers and provide absolute certainty over the ownership and history of assets.
Due to distributed ledger technology, blockchain eliminates the need for entering accounting information into multiple databases and potentially removes the need for auditors to reconcile disparate ledgers. This could save substantial time, reduce human error, and improve information reliability.
Real-time analytics
Real-time analytics uses logic and mathematics to data to help make better decisions quickly. Accountants use real-time data analytics to help clients mine their financials and transactional data for valuable insights and to identify process improvements that can increase efficiency and better manage risk.
Artificial intelligence (AI)
Artificial intelligence is the simulation of human intelligence processes by machines, especially computer systems. Specific applications of AI include expert systems, natural language processing, speech recognition, and machine vision.
AI advancements are rapidly automating accounting and finance, including time-consuming tasks such as audits, banking, tax preparation, bookkeeping, reporting, and payroll. Because AI can automate labor-intensive processes, it can lower labor costs while improving quality and reducing the risk of fraud.
Machine learning
Machine learning (ML) is a discipline of artificial intelligence (AI) that enables machines to learn from data and experience to identify patterns and make predictions with minimal human intervention.
Machine learning automates many labor-intensive tasks, including:
Recording data in the correct formats

Categorizing transactions

Reconciling accounts against bank statements

Identifying data in scanned receipts or invoices

Streamlining audit processes or procedures
Automation
Automation is the application of technologies to produce and deliver goods and services with minimal human intervention. Automated accounting involves using software to automate critical accounting operations like account reconciliation, updating financial data, and preparing financial statements.
Accounting automation makes it easier for accountants and bookkeepers to review their client's financial data in real time, helping them make informed decisions about tax planning, billing, and cash flow management.
Social media
Social media is a collective term for websites and applications focusing on communication, community-based input, interaction, content-sharing, and collaboration. Social media can be a powerful marketing tool for accountants. Not only can you connect with current and potential clients on social media, but you can also use social media to build your brand and establish yourself as an expert in the accounting field.
A strong social media presence:
Boosts brand awareness

Builds community through engagement

Improves client experience and cultivates trust

Drives more website traffic

Reduces paid marketing

Establishes thought leadership
How digital transformation is changing accounting practices
Cloud-based systems
Cloud computing has changed accounting by accelerating the speed at which information is processed, analyzed, and shared with clients. Cloud computing has also transformed communications as clients and accounting firms can have remote meetings at their convenience. Additionally, cloud technology with data storage protocols has dramatically improved the safety of storing confidential information. Cloud-based accounting has increased accuracy and efficiency by automating many manual, error-prone, and labor-intensive processes.
More diverse roles for the accountant
As technology helps automate data entering and number crunching tasks, accountants are taking on a more consultative, business advisory role that requires strategic thinking, creativity, collaboration, and insight:
Turn the insights from curated data into more effective financial planning and reporting.

Collaborate with clients to develop business management plans that promote growth.

Specialize in an accounting consulting service: taxation, brokerage, or technology.
More efficient client transactions
Quite simply, accounting technology automates many labor-intensive, time-consuming tasks, freeing up accountants to focus on better serving clients with advisory services.
Access to client data in the cloud means accounting firms can be more responsive to meeting the needs of their clients. The data-informed accountant better understands the client's business and provides a higher level of service. Exceeding client expectations helps retain clients.
Deloitte found B2B customers are, on average, 32 percent more likely to renew a contract with B2B companies that have mastered customer experience. Making it easier and more convenient by being accessible via multiple communication channels also improves the customer experience.
In addition, digital accounting integrates critical processes, systems, and analytics. Digital integration enables firms to scale and serve a more extensive customer base through faster and more efficient operations.
Mobile accounting
Mobile accounting apps help accounting firms manage their business while on the move. From smartphones or tablets, accounts can reconcile, send invoices, add receipts and create expense claims. Communicating and collaborating with peers and customers anywhere or anytime has never been easier. And reports and other important documents can be exchanged in real-time.
Specialized accounting software
Accounting software manages and records the day-to-day financial transactions of an organization, including fixed asset management, expense management, revenue management, accounts receivable, accounts payable, subledger accounting, and reporting and analytics.
What does specialized accounting software mean to the accounting firm?
The benefits of accounting software can be summed up in one word: automation. Accounting software enables:
Fast, accurate data entry and record keeping

Data consolidation for comprehensive and detailed financial reports

Greater efficiency by eliminating repetitive, manual tasks
Ultimately, creating greater efficiencies save accounting firms time, enabling accountants to focus on helping clients with more strategic, core business issues.
Accelerating your path to modernization
First, consider the value of modernizing. A modern, digitally driven firm can:
Work more efficiently

Service more clients

Generate additional revenue streams

Bill for higher-value services

Do more interesting work

Be more competitive

Be more profitable
Second, take stock of your firm's current technology. Is your data disconnected? Is it difficult to access and share the firm's information, documents, and files? Can you provide your clients with quality service to drive informed decision-making? Dated technology can prevent your firm from scaling to take on new clients or capture critical data needed to identify and offer new advisory consulting services.
Third, research how leading technologies can transform a firm. For example, this post addresses how cloud computing, artificial intelligence, and real-time analytics are changing accounting today.
Finally, adopt a future-forward outlook. Being future-focused means thinking about the future, anticipating obstacles, and planning ahead. It's keeping up to date with changes and developments, responding to critical trends, and being open to change.
Actionable steps to help modernize your accounting firm
List your firm's essential tasks, including primary services and supporting systems.

Identify, prioritize, and improve the processes that have the most significant business impact.

Create a workflow diagram to help you visualize the process and spot inefficiencies.

Invest in cloud and accounting software technology to automate your processes and secure your data.

Optimize your onboarding process to make it easy for clients to solicit your services.

Offer accounting advisory services that leverage technology to provide more value to clients.

Include training to ensure your team understands their roles and deliverables under the new program.

Actively seek feedback from team members and relevant staff across the firm.
Upskilling
Upskilling is gaining new knowledge, tools, and abilities. Employers may upskill staff through training programs to achieve a more proficient workforce. Workers may upskill themselves via continuing education, certification, and private training.
Upskilling is especially crucial for accountants and finance professionals. They must be open to change and adaptable to technological advancements in today's digital work environment.
"Change is the only constant in life," said the Greek philosopher Heraclitus. While change is unavoidable and, at times, stressful, it can be managed. Accounting firms can successfully reap the advantages of a digitally driven business through planning and understanding the potential of today's technologies.
FREQUENTLY ASKED QUESTIONS
What are the emerging technologies in accounting?
New technologies having the biggest impact on accounting include cloud computing, artificial intelligence, machine learning, real-time analytics, and blockchain technology.
How has technology improved accounting?
Among the ways the new wave of technology has improved accounting include reducing the firm's IT burden, automating labor-intensive manual data entry activities, and enhancing the safety of storing confidential information.
What are the benefits of technology to accountants?
Technology provides the accounting staff and their clients with 24/7 mobile access to shared documents. It also enables staff and clients to collaborate wherever and whenever it's convenient.
CHAPTERS
00 Building the modern, automated accounting firm
01 Why digital technology is crucial to an accounting firm's success