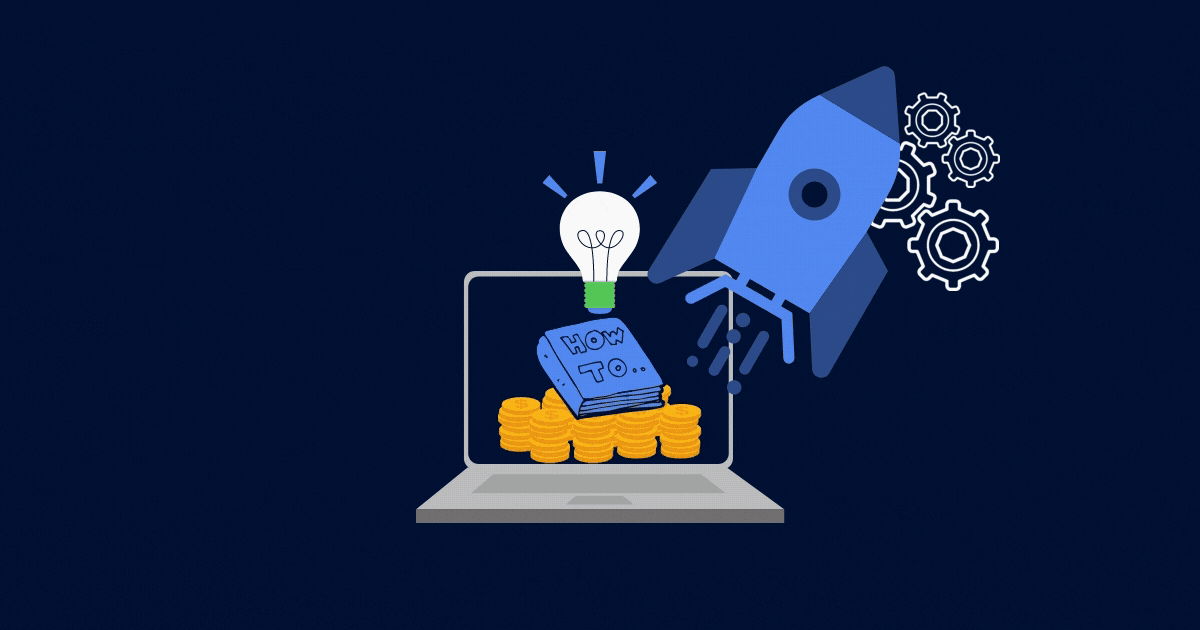 Do you want to replace traditional businesses with new modernized practices? Do you have the attitude of an entrepreneur? Do you want to establish a new company that creates value? Do you have the mindset of an innovator? If you answered "yes" to any or all of these questions, you are ready to start your own business.
How can you start a small business? We suggest following the seven steps below to start a small business:
1. Conduct Market Research
Where to start a small business? Research, research, research, and more research! When starting a business, it's essential to conduct thorough research before getting yourself in for the long game. This stage is critical for anyone who is thinking of starting their own business. There are 1.2 million small businesses in Canada and 31.7 million small businesses in the United States (US). In total, small businesses take up over 90% of the economy of North America. Now, this is a double-edged sword as it signifies the sustainability of small businesses but also indicates competitiveness.
First, you need to understand which type of competition your idea belongs amongst these four main different types of competitors:
Perfect (also known as the pure competition) – there are low entry barriers with many competitors but no dominance (examples: professional services and nail salons).
Oligopoly – there are similar products with limited companies offering the same product or service lead by large corporations (examples: banking and gasoline).
Monopoly – a single company dominates the market with close to no competition (examples: Hydro service).
Monopolistic – a single company is dominating the market, but few similar sizes or smaller companies' competition in the market (example: Netflix vs. Amazon Prime, Disney+, Crave).
Afterward, it would be a good idea to conduct the following three different types of competitive research to understand your potential competitors in the field you are planning on entering:
SWOT Analysis – evaluate the competitor companies' strengths, weaknesses, opportunities, and threats.
Porter's Five Forces Analysis – analyze the threat of new entry, buyer power, the threat of substitution, and supplier power.
Blue Ocean Strategy – Understanding the competitor and industry landscape if it's already overly saturated with competitions making it a red ocean or if there are few competitions in the whelm where you stand a chance to capture a large share of the market, making it the blue ocean. It would be best if you ideally jumped into the blue ocean for less risk and a higher chance of growth and sustainability.
Conducting this research will help give you a clear understanding of whether or not the problem you are going after is still unmet in the industry. This will give you a good sense that you can potentially become the solution instead of entering a competitive industry with high risks and less share for you to capture.
On the other side, if you want to start your own business but don't have a solid idea. Completing research on your industry of interest will help to identify a service or product for you to develop and start a business.
2. Make a Business Plan
Time for business model generation. Now you know what you want to do, in order to start your own business, you must first define the "Business Model." The best way to brainstorm your business model is using the Business Model Canvas (BMC) (Exhibit A).
Exhibit A - The Business Model Canvas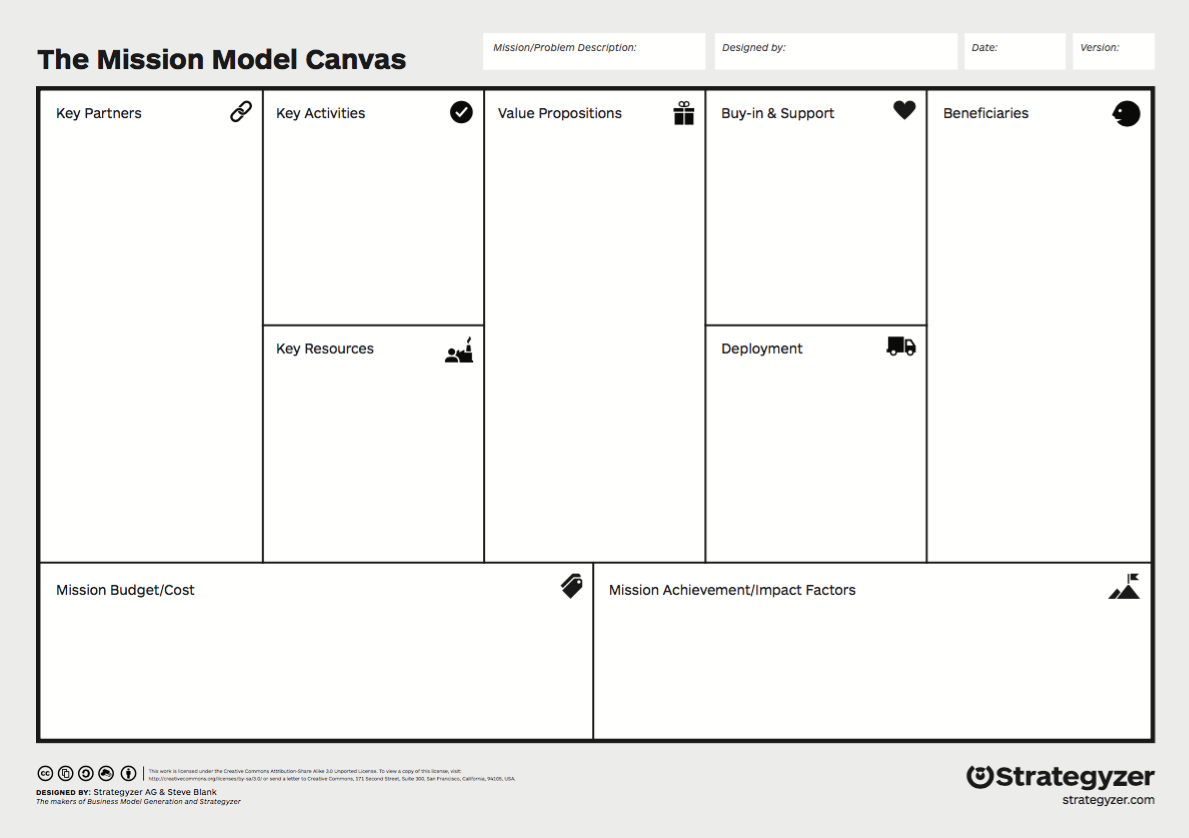 Source: Strategyzer
Going through the BMC will guide you through the fundamental elements to establish the structure of your business plan. Listing the key partners, key activities, key recourse, value propositions, customer relationships, channels, customer segments, cost structure, and revenue streams will help the idealization of business.
Once you complete the BMC, you would have gone through the process of identifying the value proposition for your business. As value proposition is the core component of your business, use the Value Proposition Canvas (Exhibit B) to have a deep dive to ensure that the product or service is really addressing your potential customers' or clients' needs. Using the customer profile side fill in the customer jobs, customer pains, and customer gains. Then on the value map side, lay out the products or services you are planning on offering as the pain relievers along with the gain creators.
Exhibit B - The Value Proposition Canvas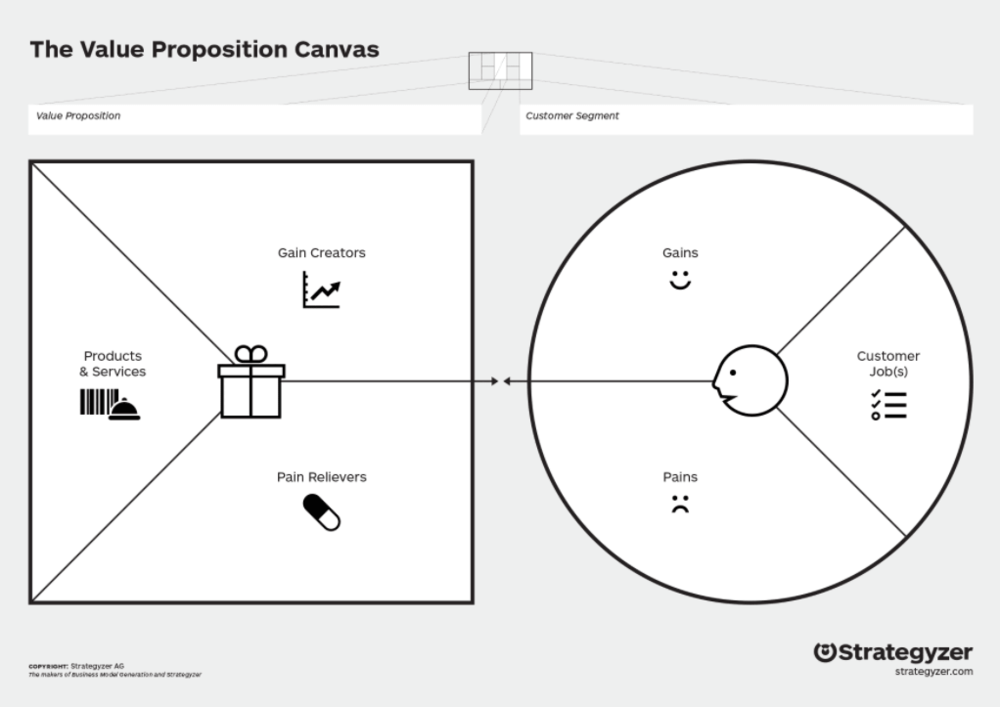 Source: Strategyzer
Based on John Hagel and Marc Singer coined the term "unbundled corporation" with the belief that all companies are composed of three different types of business with different economic, competitive, and cultural imperatives (Exhibit C). Understanding where your business will fit into amongst the three different business types will also help get you ready to start a business.
Exhibit C - Unbundled the Corporation
| | | | |
| --- | --- | --- | --- |
| | Product Innovation | Customer Relationship Management | Infrastructure Management |
| Economics | Early market entry enables charging premium prices and acquiring large market share; speed is key | High cost of customer acquisition makes it imperative to gain large wallet share; economies of scope are key | High fixed costs make large volumes essential to achieve low unit costs; economies of sale are key |
| Competition | Battle for talent; low barriers to entry; many small players thrive | Battle for scope; rapid consolidation; a few big players dominate | Battle for scale; rapid consolidation; a few big players dominate |
| Culture | Employee centered; coddling the creative stars | Highly service-oriented; customer-comes-first mentality | Cost focused; stress standardization, predictability, and efficiency |
Source: Hagel and Singer, 1999
We all know that creating a strong base is essential. That is why it is vital to set out the goals, objectives, plans, strategies, and tactics before starting your business to survive the competitive market. Please don't leave this until after you start your business as then it will cost you money. Plus, you won't have time as you need to focus on growth, not laying out the business's foundation.
3. Plan Your Finance
To start a business, you need to have your financial plan for your business in place. There may be some owners who can finance the business from their own pockets. However, if this isn't the case, there are many options to consider. You have an opportunity to start your business using modern technology, using a crowdfunding platform that will guarantee initial revenue and determine the initial success of your business. There are also small business loan options available or grants available. If you can sustain yourself to create a prototype of your service or product to back it up with enough data, you can get a head start in finding investors or venture capital companies to invest in your business.
If you are starting your business in Canada, look at getting support and financing on the government page. On the other hand, if you are starting your business in the US, look at small business administration investment programs.
Most start-ups follow the pattern of pre-seeding round, seeding round, Series A, Series B, Series C, and then either get acquired by another company or goes public with the initial public offering (IPO).
Here is a tip it is wise to figure out if you will handle your finance in-house or by outsourcing to an accounting or bookkeeping firm. You must know the importance of getting into the routine of controlling the business's cash flow from the start. As the start-up's focus is to grow the business exponentially, the company may be too focused on just developing the product or service itself, not correctly managing the cash flow. Remember, cash flow is key to success.
When starting a small business, a standard tip and practice are finding a developed start-up that offers tools to support your business. For example,
is a cloud-based account payable and accounts receivable solution that helps small and medium-sized businesses (SMBs) to focus on growth by automating payments, receivables, and reconciling using Plooto.
4. Register Your Business
It's time to register your business officially. By making your business official, you can officially leverage the different small business resources available. Plus, registering your business separates you from the company removing personal risks.
Additionally, if your business requires additional licenses or permits, make sure to apply as it takes time for it to be issued. Moreover, if your company has a unique product and requires a patent to protect your product or technology, make sure to do it as soon as possible. You don't want to be involved in a lawsuit or go through one to claim that your technology or product is original. Not only will this dispute your business, but it will cost the business a significant amount of expense. At all times, avoid putting your company at liability.
5. Make Key Hiring
If you have not gone through the previous steps with a group of teams, you need to make essential hiring. It is possible to run a one-person business if your business is around service. As a business owner, you can choose to start your business with contract workers, and there are pros to this. However, if you see it in the long run, it's best to have someone in-house from the beginning who can continue the journey together. As it takes lots of time and resources to train for a position.
There are ways to hire and build a team with little or no money. Find those around you or get introduced to people with the same belief in the product or service you are developing and offer them stock options and possible perks like flexible hours. Various research states that millennials who make up more than one-third of the workforce are more interested in flexibility and work-life balance over salary.
6. Start Building the Digital Presence
You are likely interested in starting a digital business or require a digital presence to market your business. It is crucial to building the digital presence of the product or service that the company offers.
The best and fundamental practice is leveraging the email subscription list. Forbes reported that the email market is still the most powerful tool to take small businesses to the next level. To create the buzz and wish to bet on viral marketing, having a presence on different social media platforms that matches your business, including but not limited to Facebook, Twitter, LinkedIn, Instagram, YouTube, Pinterest, and TikTok, would be crucial.
7. Grow the Business
What makes a small business successful? There is no ultimate answer. There will be different challenges when starting a small business. Remember, success doesn't happen overnight but with the right team and continuous research, evaluation, and company positioning. Plus, with proper cash flow management, your business can positively impact the customers or clients.
Additional Helpful Resources for Starting a Small Business: