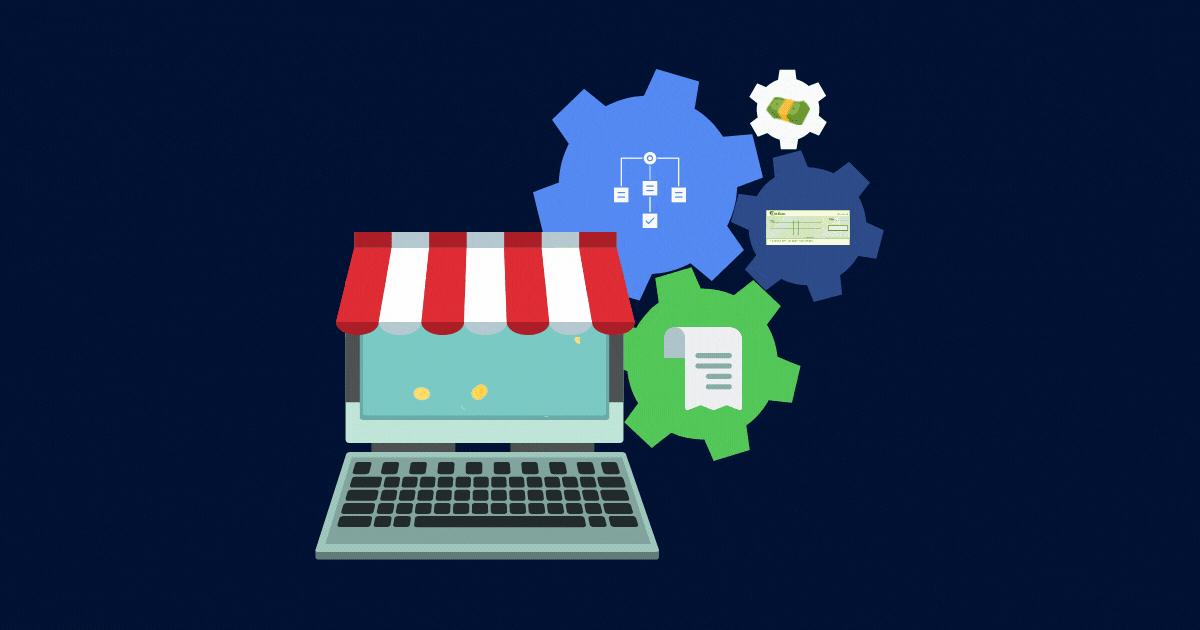 With ongoing technological innovations supporting remote business operations, companies are considering continuing remote work or completely transitioning from brick-and-mortar to virtual business for the coming years.
Of the various tools required for successful online business, accounts payable (AP) and accounts receivable (AR) automation tool is essential for business-to-business (B2B) payments for continuous healthy growth momentum with a good cash flow.
Read More: How to Transition Your Business Online
Traditional B2B payments and receivables processes are impractical and risky for a virtual business. Plus, the extensive manual effort to process B2B payments and receivables is just a time-consuming process. Adding accounts payable and accounts receivable automation software to your business tech stack enables virtual businesses to manage both payments and receivables effectively, efficiently, and remotely with security.
When do online businesses use AP transactions?
There are a few different types of transactions that online businesses use when dealing with Accounts Payable (AP). These include but are not limited to: basic transactions, recurring payments, and abbreviated payments.
What are common issues online businesses face when managing AP and AR?
There are a few common issues that online businesses face when managing accounts payable (AP) and accounts receivable (AR). One issue is that they may not have a good handle on their cash flow. This can happen if invoices get paid late or if customers don't pay what they owe. This can cause serious financial problems for a business.
What are solutions to common issues for managing AP and AR for an online business?
There are a few potential solutions for managing accounts payable and accounts receivable for an online business. One option would be to use accounting software that can automate some of the billing and invoicing process. This can help save time and decrease the risk of errors. Another solution would be to outsource some or all of the AP/AR function to a third party provider like Plooto.
Go online with confidence in a secure B2B financial process
A complete shift to online business means no more onsite supervision for different B2B transactions processed within a company. Maintaining the traditional accounts payable and accounts receivable process despite the virtual transition increases the chance of internal fraud activities.
With accounts payable and accounts receivable automation, the entire transaction processes are digitally recorded from beginning to end, adding a protection layer preventing fraudsters from attempting to manipulate the payments or receivable processes. Furthermore, a complete, readily available, and easily accessible audit trail makes it easy for internal audits to be conducted regularly with minimal disruption for the company. Precisely adopting an accounts payable and accounts receivable tool allows businesses to handle payments and receivables from anywhere with confidence.
Focus on onboarding more customers
Ultimately, the decision to transform the existing business into an online business all comes down to setting the goal to increase productivity to grow and scale the business with velocity. As part of the quest, with accounts payable and accounts receivable automation, your business can eliminate wasted time on tedious manual finance processes and allow the company to achieve the goal by allocating saved time to onboard more customers to grow the business.
As a bonus, the accounts payable and accounts receivable automation tool that provides payment approval workflow, especially with customization of approval tiers, will help streamline the entire payments process. Payments can be approved instantly and processed without additional supervision or delay in approval. Automating AP and AR will redefine B2B payments for your company as an easy, simple, and fast process.
What to look for in an Accounts Payable and Accounts Receivable Solution
Identifying the right software for a business can be the most challenging task for a company as it's crucial to find the right tool to onboard the team as it all comes down to cost and time.
To choose the right AP and AR solution for your business, make sure to use the list below as the checklist:
Workflow-driven

Auto reconciliation with accounting software

Automate recurring payments and receivables

Provides security to reduce fraud and risk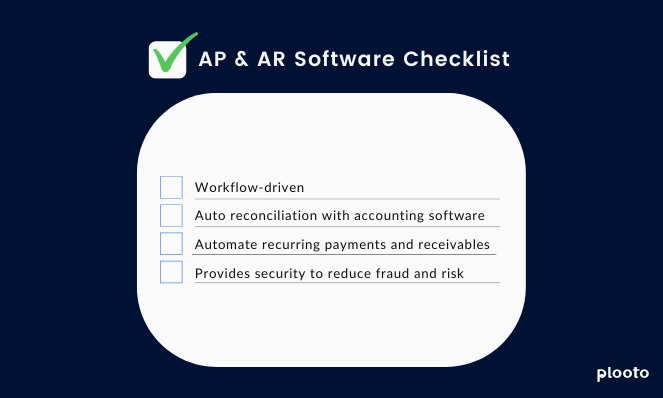 Make the right AP & AR automation choice
As payments and receivables are crucial for a business, automating both accounts payable and accounts receivable are the key to success with minimal effort in maintaining a positive cash flow.
Unsure if accounts payable and accounts receivable will help your business? Save time researching and start now with a
of Plooto, no credit card required.
About Plooto
Plooto is a cloud-based accounts payable and receivable solution that focuses on helping small and medium-sized businesses (SMBs), accountants, and bookkeepers to increase the speed of managing both payments and receivables to focus on scaling their business with velocity. Plooto offers different essential AP and AR features like online check payments, auto reconciliation with various accounting softwares, and payment approval workflow with customizable approval tiers.