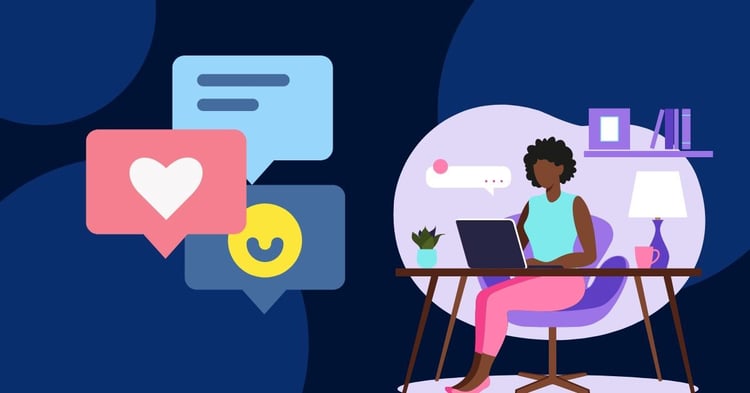 As technology has gotten more advanced and accessible, digital marketing for accounting firms has become one of the best ways to reach and service potential clients. From social media to podcasting, online marketing offers an effective way for accounting firms to build brand awareness and increase their visibility across multiple channels.
So how exactly can digital marketing help accounting firms succeed? In this article, we'll explore the importance of digital marketing for accounting firms and how they can use free or paid advertising strategies to generate more leads. Some marketing tactics here will be easy to execute immediately, while some will take a little more investment of time and energy. In either case, we have everything you need to market your accounting firm online – and see results.
Sign up for a Free Trial today
SHORTCUTS
Reasons why CPA firm marketing fails
Why do some accounting firms fail at marketing, while others succeed? When it comes to digital marketing, many CPA firms struggle to get results. Despite investing in digital advertising and content creation tactics, some accounting firms find themselves unable to generate leads or grow their client base.
Let's look at some of the most common mistakes in marketing, so that you can avoid making the same ones.
Unclear marketing goals


Poorly defined audience and lack of insights into customer needs


Lack of a well-developed content strategy


Not leveraging digital technologies to their advantage


Ignoring data analytics when making decisions


Not focusing on mobile optimization


Failing to develop relationships with customers online


Insufficient budget for digital advertising campaigns


Inadequate tracking and reporting systems


Consistency in effort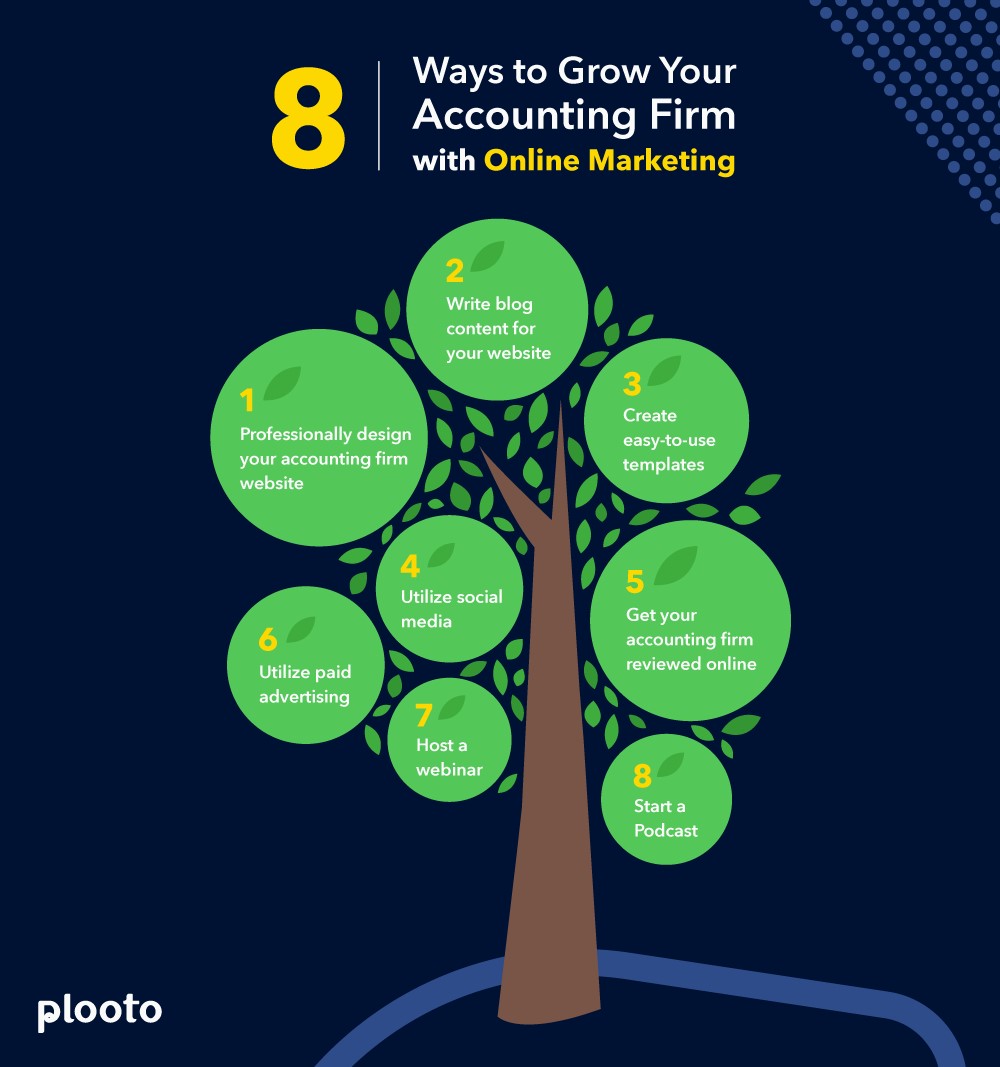 8 Ways to market an accounting firm in the digital age
While many marketing strategies now are easy to get started with, marketing continues to be something accounting firms have to be thoughtful about and persistent with. Gone are the days of taking out ads in printed phone books or relying on a single TV commercial to drive your business.
Don't get us wrong – there will always be a place for non-digital marketing, like outdoor billboards, printed flyers and more – but let's review all of the ways you can grow your accounting firm by using the myriad of digital tools available to you right from your desk.
1. Professionally design your accounting firm website
Having an up-to-date and professionally designed website is essential for any digital marketing strategy and accounting firm. In this case, many potential visitors will 'judge a book by its cover' and if your website is not easy to find, navigate or use, you will lose traffic to your competitors.
A website provides a digital platform for businesses to showcase their services, attract potential customers, and build trust with current and prospective clients. In addition to these benefits, having a website can help boost brand recognition and visibility, as it will be indexed by search engines and easily shareable across digital channels.
Here is a list of website must-haves when thinking about building your own.
A professional design that is mobile friend


Clear messaging and content about services offered


Contact information


High-quality images, including of staff members and office locations


Up-to-date information on staff credentials and certifications


Links to relevant industry publications, articles and blog posts


Social media buttons to promote engagement on social platforms


Web copy that is Search-Engine-Optimized (SEO)


An online form allowing potential clients to connect with the firm directly or to subscribe to your email list


A call-to-action encouraging visitors to take further action
One more reason to have your website filled with content optimized for search is the proliferation of voice search. Digital assistants on mobile and smart home devices make it easy for users to get answers to frequently asked questions and your site could be at the top of the results if done right.
2. Write blog content for your website
Writing blog posts is an essential digital marketing strategy for accounting firms. Blogs help to establish credibility, build trust with potential clients, and drive more traffic to your website. They also provide a platform for you to share industry insights and demonstrate your expertise in the field of accounting. Writing informative and engaging blogs can position you as an authority in the industry, helping to attract new customers who are looking for reliable advice from experienced professionals.
Writing evergreen content that doesn't ever really go out of style can establish your accounting firm as a subject matter expert, but also be sure to add regular blog updates on trending topics so that you can boost SEO rankings with fresh content that search engines love.
Having refreshed content to return to on your website will encourage visitors to join your email list so that you can also send them promotional content in the future.
3. Create easy-to-use templates
While many visitors to your website may be ready to retain an accounting firm, some may just be testing the waters and want to do a little self-serve work before hiring you. By sharing some common accounting templates that are easy to download and use right away can help turn these visitors into future clients.
The goal here is to showcase domain expertise and build trust. You may be thinking that giving away free templates removes the need to hire you, but more often than not, people are looking for a competent guide to help navigate them to their goals.
Here are a few templates you could potentially create and host on your website for download:
Financial Statements Template


Tax Return Spreadsheet


Income Statement Template


Bank Reconciliation Form


Petty Cash Log


Accounts Payable Ledger


Chart of Accounts Listing


Credit Card Payment Tracker


Account Receivable Register


4. Utilize social media
Social media marketing is an essential digital marketing strategy for accounting firms, as it allows them to stay connected with their customer base, build relationships with potential customers, and engage with key industry influencers. Leveraging digital platforms like Twitter, Facebook, Instagram, LinkedIn and even TikTok can help to grow your online presence and boost your digital reach. Additionally, promoting content through digital channels can help to drive more traffic to your website and increase conversions.
Here are a few things to consider when getting started with social media.
Choose the right social channels for your accounting firm
The instinct will be to be on all platforms in order to gain the widest reach. While that instinct isn't wrong, it only works if you have the time and resources to show up on each platform meaningfully – that means posting regularly, in that platform's native format, and engaging in the comments.
If you're not quite ready to hire a full-time social media manager, or devote the resources to creating regular content for all social media channels, the best strategy here is to pick one or two key channels that you know your audience uses, focus on mastering engagement on those and then expand.
In most cases this will be LinkedIn and Facebook, but take a moment to really think about where your clients spend their time online before deciding.
Set up your social profile in full
Because no two social channels are exactly the same, one of the mistakes accounting firms make is not making use of all the information fields available on each. Take the time to familiarize yourself with all the ways you can optimize your social channels and share what makes you a great partner for your audience.
Some of the most common things to include when filling out your profiles include:


Professional profile photos


A clear and concise bio or description of your accounting firm


Links to your website, blog, email list sign-up form, etc.


Contact information (address/phone number/email)


Customized cover photos that reflect the branding of your accounting firm


Call-to-action buttons connected to a digital resource like a landing page


Hashtags or keywords relevant to the services you offer
Share the right kind of content
Again, since no two channels are exactly the same, it's important to create social media content that is for that specific audience and format. Familiarize yourself with the most common types of posts and mirror those where possible and be sure to include visuals – images, and especially video, outperform simple text-based content every time.
Social media is a great way to understand and jump on potential trends that you could leverage to get more visibility so keep a close eye on what's being posted by everyone else each day.
Here are a few social post ideas to get you started:
Share a case study of how your accounting firm helped save a client money


Offer tips on how to stay organized with finances throughout the year


Showcase the services offered by your accounting firm and why they are beneficial


Feature industry updates or news relevant to accountants


Celebrate milestones achieved by your accounting firm, such as anniversaries or large deals completed
5. Get your accounting firm reviewed online
Online reviews can be an extremely useful digital marketing tool for accounting firms. Reviews provide a platform for customers to share their experiences, allowing potential clients to get a sense of the quality of services offered by your firm. Additionally, online reviews can help to improve your digital presence and boost search engine rankings, as well as increase conversions. When sourcing reviews for your accounting firm, be sure to include customer testimonials on your website, solicit reviews from customers via email or social media, and respond promptly to any negative feedback you might receive.
How to handle bad or fake reviews with grace
Speaking of negative feedback, when people leave bad or fake reviews online, it is important to stay calm and polite. Respond to the review with grace and try to understand why they are unhappy. This shows other potential customers that you care about their opinion and will work hard to make sure everyone is happy. If a review is clearly fake, look into ways of having it removed such as contacting the website or service where it was posted.
6. Utilize paid advertising
While posting content regularly on your website and social channels can help generate free, organic traffic, paid advertising is an effective digital marketing strategy for accounting firms to help reach a larger audience and extend their digital reach. Ads can be targeted to specific audiences based on geographical location, interests and more, helping accounting firms to narrow down the right people who are likely to become customers.
Additionally, paid advertising campaigns such as Google Ads and Facebook Ads offer detailed metrics that help to track user engagement and measure the success of an ad campaign. This helps businesses make data-driven decisions when optimizing their digital marketing efforts.
Paid advertising also presents opportunities for achieving higher rankings in search engines which can help increase visibility and drive more organic traffic. You don't have to use paid advertising, but it's recommended you allocate at least part of your monthly budget on paid channels to help boost your reach.
One of the added benefits of advertising digitally also is that you can A/B test different content and messaging. This means testing out two or more different versions of the same ad to understand which performs better. Run both ads to similar audiences and after a few days, evaluate which one is getting the better click-through-rate to your website or promotion – then focus more ad budget on the better-performing creative.
7. Host a webinar
Hosting a webinar can be a great digital marketing strategy for accounting firms. Webinars allow accountants to share their expertise and build trust with potential clients in an engaging way. There are numerous benefits to hosting a webinar, such as providing an opportunity to demonstrate professionalism, knowledge, and authority in the accounting world. Additionally this is a great way to grow your email marketing list, so that you can reach out to attendees again in the future.
Here are a few ways you can get started with webinars.
Set a Date and Time: Choose when you will host the webinar, taking into consideration factors such as time zone differences and availability of speakers/experts.


Plan Your Content: Develop an outline for your webinar content that covers topics in an engaging manner to keep viewers interested during the session.


Establish the Objective: Determine what the main objective of your webinar is so that you can create content aligned with it and measure success against it afterwards.


Find a Suitable Platform: Select digital platforms suitable for hosting your webinar based on features offered, pricing plans, ease-of-use etc.


Invite Speakers & Guests: Identify relevant experts or industry professionals who can contribute towards making your webinar interesting and informative for attendees by providing insights from their particular field of expertise or experience in general digital marketing strategies related to accounting firms.


Promote Your Webinar: Create promotional materials such as digital ads, press releases, social media posts, email campaigns etc., to promote your upcoming event well ahead of time


Test Everything Ahead Of Time: Ensure that all audio visual components function properly prior to going live by testing out microphones, presentations, etc.


8. Start a podcast
Starting a podcast can be an extremely effective digital marketing strategy for accounting firms, but it is also a little more resource intensive so be aware of that going in. If you want to test the waters and see whether podcasting is a good fit for you, see if there are industry-leading podcasts you can be a guest speaker on first.
Podcasts can provide a unique platform for businesses to showcase their personalities, expertise and knowledge in the accounting field. By taking part in podcasts, you can build trust with potential customers and establish yourself as an industry expert through engaging conversations.
Since podcasting is still relatively new, having only really grown in popularity over the last few years, you have a unique opportunity to carve out your niche audience with a podcast.
If you're ready to take the dive into starting one, here's what you'll need:
Gather the necessary equipment: digital recorder, microphone, headphones


Choose a hosting platform such as Anchor, Buzzsprout or Libsyn


Create podcast artwork and an engaging logo


Develop topics for each episode


Decide whether you want to tecord episodes with guests or solo


Optimize audio quality and edit recordings as needed


Write show notes and upload podcasts to your hosting platform


Distribute podcasts across various digital channels and streaming platforms such as Apple Podcasts, Spotify, YouTube etc


Track performance metrics from listening analytics
9. Measure your performance, adapt and be consistent
Measuring your digital marketing efforts is essential for accounting firms in order to assess their campaign performance, identify areas for improvement and maximize their ROI. By tracking key metrics such as website visits, social media engagement and email opens, businesses can gain valuable insights into how successful their digital campaigns have been and whether they meet their desired objectives. Additionally, measuring digital performance allows businesses to compare different tactics to determine which ones are most effective in terms of reach, engagement and cost-effectiveness.
Many businesses 'set it and forget it' when it comes to marketing, so it becomes difficult to truly understand the impact of their efforts, but by keeping a close pulse on each one of your marketing channel's performance – and adapting as trends change – you'll be able to stay ahead of your competition.
The most common metrics businesses should look to measure include the following:
Website Traffic
Conversion Rate
Cost-Per-Acquisition (CPA)
Return on Ad Spend (ROAS)
Customer Lifetime Value (CLV)
Social Media Engagement Rates
Email Open/Click Through Rates (CTR)
Search Engine Optimization Metrics
Lead Generation Performance Metrics
The best accounting firms with the highest success rate never stop marketing, measuring and marketing again. Consistency and discipline with these strategies will help grow your business rapidly where others can't.
Back to shortcuts
Which digital marketing strategy should you start with?
When it comes to digital marketing for accounting firms, the most important thing is to identify which digital strategies will be the most effective in achieving their desired objectives. One of the best ways to start is by focusing on content marketing, as this strategy allows accountants to share valuable industry insights and advice with potential clients. By consistently creating high-quality content, such as blog posts and e-books, accountants can build trust with their target audience and establish themselves as thought leaders in the industry.
At the end of the day, it's also important to stay within your resourcing capabilities. Marketing is only effective when done effectively, so be sure to focus on channels and strategies you know you can invest the time and budget for. As your business grows, you can scale and expand your marketing efforts to include channels and strategies you haven't tried yet.
Where to next?
Digital marketing is an invaluable tool for accounting firms, as it allows them to reach larger audiences and promote their services more effectively. In order to succeed with digital marketing, accountants must possess a range of digital skills and utilize the right tools, such as content management software, Google Ads/PPC advertising, social media platforms and SEO tools.
Additionally, digital marketers need to stay on top of digital trends in order to ensure that their strategies remain effective. By following best practices like these and monitoring performance metrics such as email open rates and search engine optimization metrics regularly, accountants can maximize ROI across all digital channels and ensure continued success for their firm's online presence.
Of course, growing your firm is only half the battle. Managing your growing firm is the other half. As your firm expands and your client list grows longer, you need to make sure nothing falls through the cracks.
Implementing a robust, easy-to-use payment workflow management system will ensure your quality doesn't suffer. Plooto provides an easy-to-use platform for managing key aspects of your growing firm.
CHAPTERS
00 Building the modern, automated accounting firm
01 Why digital technology is crucial to an accounting firm's success
02 Creating new accounting firm revenue streams to unlock growth
03 Proven strategies to help your firm retain, attract clients
04 How to Harness the Power of Digital Marketing for Accounting Firms