The accounts payable (AP) process can give even the most experienced AP departments a headache. With overflows of paper invoices, likelihood of human error, and loads of data entry, the AP process can suck up precious time.
According to CPA PracticeAdvisor, financial departments spend 520 hours per year on manual AP tasks that could be automated.
Managing your accounts payable doesn't have to be complicated. With increasing innovation in advanced AP automation solutions, automating your payments can be quick and painless.
In this blog, we'll go over what AP automation is and how you can use it to advance your business.
SHORTCUTS
The accounts payable process
The Accounts Payable (AP) process, or procure-to-pay, encompasses all the steps taken to complete and archive payments. This process can be broken down into four overarching components:
Invoice capture

Invoice approval

Payment authorization

Payment execution
Managing multiple accounts payable processes can be difficult - especially if the workflow is overrun with manual tasks. Switching to AP automation software can improve efficiency within your team - keep reading to find out how.
The manual accounts payable process
Your manual AP process might look something like this:
1. Receive invoice
Your business will receive an invoice from a supplier/vendor of a payment you owe them. Once received, the AP process starts, and goes through the steps of getting approved and archived.
2. Invoice is allotted
Internally, the invoice will be assigned to either a person or team.
3. Invoice data is entered
Once assigned, the data on the invoice will be entered into your accounting system. Data points such as payment due date, payment amount, vendor information, and invoice number are entered manually.
4. Approval or denial of invoice
The invoice will then be approved or denied for the next steps. Often, there will be an approval process started to reach the approval of certain people. This usually consists of multiple email threads and/or hand delivering the invoice in-person to different desks.
5. Payment is created
With approval, a payment is created to be processed and will be sent to the appropriate party. Often this will be accomplished with checks or other electronic payment options.
6. Payment is internally reconciled
Once the payment is processed, the payment data will be reconciled manually in your accounting books. Once reconciled, the payment can be archived.
Challenges with manual accounts payable process
Likelihood of human error
If your accounts payable process is reliant on manual processes, you're leaving your accounting vulnerable to more human error. Manual data entry can lead to payment errors, duplicate invoices, or late invoice processing.
Expensive
Managing your AP processes manually can get expensive - quickly. With an increased likelihood of invoice errors, you'll have to make up for mistakes with time and money. A simplified and automated AP process will allow you to reduce costs associated with your payment management.
Time consuming
Manual processes are undoubtedly time consuming. Instead of spending countless hours managing payments, you could spend that time on higher value tasks.
What is accounts payable automation
Accounts payable automation utilizes technology to automate steps within the AP process . It's a way to streamline your accounts payables by taking advantage of technology. With automation, you can modernize your accounts payable process, and save time and money.
The automated AP process
The automated AP process is much less labour-intensive than the manual process. Having one centralized platform for your AP workflow means no more chasing down papers or manually inputting data. Your AP process will look something like this:
Electronic invoice received
An invoice will be electronically received on your AP platform and the invoice data will automatically be captured by Optical Character Recognition (OCR).
Invoice assigned
Invoice will be assigned internally and sent electronically.
Electronic approval process begins
With a customizable approval process, approvers will be notified and the invoice will be passed electronically to approvers. Once the appropriate approvals have been made, the payment automatically begins the next step.
Payment is approved
Once approved, the payment will begin processing.
Books are reconciled automatically
Once payment goes through, the AP automation software automatically reconciles within your existing accounting software.
Why should you consider AP automation software?
Using an AP automation solution will help save on costs and minimize paper invoices. A centralized platform with automated payment approvals and payment options means you can benefit from early payment discounts.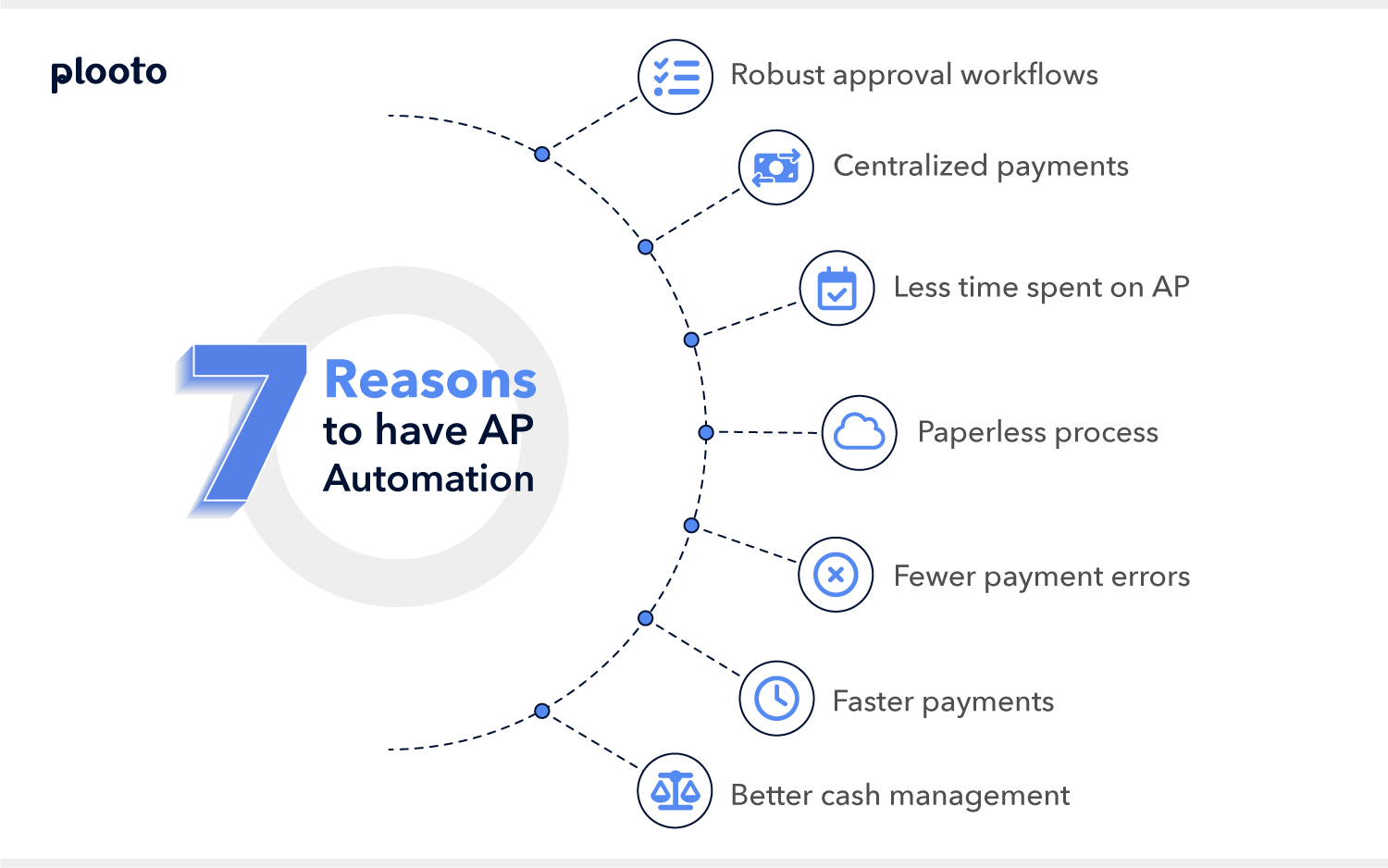 Benefits of AP Automation software
There are many benefits to integrating AP software into your AP workflow. For one, it's a platform that centralizes your invoice data and offers you a custom invoice approval process. An AP automation solution will cut down on costs and give you more time on high-value activities. More benefits include:
1. Robust approval workflows
2. Centralized payments
3. Less time spent on AP
4. Paperless process
5. Fewer payment errors
6. Faster payments
7. Better cash management
Key qualities of a payable automation software
How can you decide the right AP automation software for you? With numerous AP automation solutions on the market, check out the list below for key software features you should look for:
Automatic data capture
Optical Character Recognition (OCR) scans documents and captures the data on digital text. With OCR, you eliminate the need to manually enter data from invoices.
Accounting software integration
Your AP software should integrate with your existing accounting software so that everything is seamlessly equated. Having all your accounting centralized means no lost transactions, easier auditing, and increased accuracy within your books.
Customizable approval controls
To lessen time spent getting the right approvals, an AP software gives you customizable rules over the approval process and handles everything electronically. This way you aren't keeping track of invoices in multiple places and invoices will automatically be routed to the appropriate team members.
Automatic reconciliation
With your accounting software integrated with an AP platform, your payments will be automatically reconciled in your accounting books - meaning less time spent on manually updating your accounts.
Scaling your accounts payable department with automation
By using automation software in your AP department, you cut down time and costs on the AP process. Automation scales your department by increasing efficiency and cash visibility.
Additionally, this allows you to scale your business by reducing the need to hire more employees for AP. With the tools of AP automation, your team can manage the cash flow more tightly and open up the possibility to benefit from early payment discounts.
How to implement AP automation software
1. Identify current AP challenges
The first step to implementing an AP solution for your team is to identify your current challenges so you can identify the right software and processes for you. By noting your key areas where you need improvement you can pin-point which areas need extra focus.
Examples of AP challenges would be: losing track of paper invoices, late payments, and human errors in data entry.
2. Note key goals
Once you have identified your key challenge areas, you can then set goals for the results you want to see with implementing an AP automation solution. Having goals holds both you and the software you've chosen accountable, and gives you insight into where you may struggle with integrating an AP software in your process.
A key goal might be reducing payment times, having less errors, or cutting down time spent on the approval workflow.
3. Communicate with AP team
With your challenges and goals in mind, it's time to think about communicating the changes to your accounting/AP team. Display the benefits and processes of the automation software and allocate the appropriate training and demos.
4. Set up software and integrate
It's time to integrate your software into your AP process! Upload the necessary data and contacts into your software and integrate your accounting software with the AP solution. Add accounts for team members utilizing the software and set up your banking details.
5. Receive your invoices
Finally, you can start uploading invoices into your AP platform and start paying off bills.
How Plooto can automate your AP process
Plooto is a robust accounts receivable and accounts payable software that helps businesses manage their payments on one centralized platform. Using Plooto you can automate your accounts payable, centralize your invoices, and create custom approval processes.
With top-of-the-line OCR technology, simply upload a pdf of your invoice and Plooto will automatically scan and capture the invoice data. This saves you countless hours and reduces the possibility for error.
Some of Plooto's top features include:
Next-day vendor payment

Customizable approval processes

Payment receipt within two days

Secure ACH/EFT payments, credit card payment, and wire transfers

Accounting integrations with Quickbooks and Xero

ISO 27001 standard certification

Insurance policies

International payments across 30+ countries