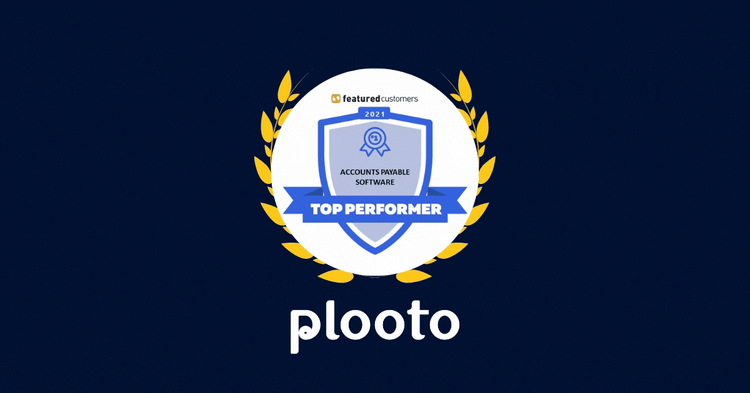 Plooto has been named the Top Performer in the Accounts Payable Software category for the Winter 2021 Customer Success Report published by FeaturedCustomers. Plooto is a cloud-based accounts payable and accounts receivable solution that modernizes and provides a seamless experience to accountants, bookkeepers, and finance teams within small and medium-sized businesses (SMB).
FeaturedCustomers published the Top Performer Awards in the Winter 2021 Accounts Payable Software Customer Success Report after assessing over 3,700 potential companies, and only 32 companies, which included Plooto, met the criteria to be featured in the report. In another category like Email Marketing Software, a well-known company like Mailchimp has made the list.
How Did Plooto Make the List?
The FeaturedCustomers Customer Success Report is published based on data from the customer reference platform, market presence, web presence, social presence, and additional data aggregated from online sources and media properties. Ranking is then determined by the following 3 components: content score, market presence score, and company score.
Accordingly, Plooto was proven to have a strong market presence with various customer success stories and testimonials that validated Plooto's goal and vision to provide top accounts payable and receivable features to support the success and growth of small- to mid-sized businesses. Plus, as Plooto was highly rated by our customers, Plooto was named the Top Performer in the Accounts Payable Software category for the Winter 2021.
Why Companies Love Plooto:
Our board and our bookkeeper, who introduced us to Plooto, really appreciate the time saved from having to manually collect signatures and mail out cheques to umpires. We're talking about over a hundred cheques per month! Not to mention Plooto's mass pay function, which allows us to cut our bookkeeping costs down. It's so easy it's a no brainer.
Michael D., Treasure,
North Toronto Baseball Association
We don't have to drive to a client just to print and sign checks. Our clients save time, too. Typically they're waiting for signatures from two board members, but with Plooto, approvals are made online and time lags are reduced. Our clients are happy, the board is happy, suppliers are happy. Everybody wins.
Dami O., Certified Public Accountant,
DO Chartered Accountant
About Plooto
Headquartered in Toronto, Plooto is an all-in-one platform that allows all accountants, bookkeepers, SMB owners, and finance teams in North America to save time by providing greater financial control and simplicity, unifying payment, receivable, approvals, reconciliation (QuickBooks & Xero), and reporting. Additionally, Plooto allows international transactions. Plooto servers' wide range of clients from different industries:
About FeaturedCustomers
FeaturedCustomers, the leading customer reference platform for B2B business software and services, focuses on validating customer reference contents like customer testimonials, success stories, case studies, and customer videos to help businesses make their buying decisions.