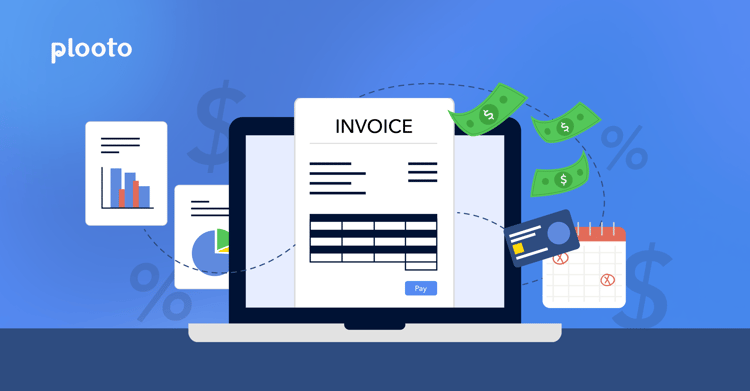 As the world becomes more digital, organizations must keep up with the rapid pace of technological advancement. Increasing digitization and automation have helped firms become more efficient and more profitable. This phenomenon can also be found in our accounts payable (AP) and accounts receivable (AR) processes.
According to the Association for Information and Image Management (AIIM), automation of payables and receivables processes enables organizations to see improvements of 50 percent or more in working capital metrics such as DSO, DPO, and aged receivables.
Business payment digitization can clearly help organizations with their accounts receivable and payable processes. Let's break down the benefits of digitization, how you can transform your business into a digital organization, and the key features you should look for when digitizing payments.
Takeaways
Qualitative and quantitative benefits of digitizing your business
We've broken the benefits down into qualitative and quantitative benefits. Let's first get into the qualitative benefits of digitizing your business.
Greater return on human capital
We all know that automation and digitization save your organization time. However, automating processes that were initially manual not only saves us time but also creates capacity that can be repurposed toward more complex or higher-value tasks.
Better process quality
As organizations begin to digitize their processes, with it comes automation that provides a higher quality of accuracy in transaction reporting, greater control over financial data, and standardization of processes.
Flexible and scaleable
When small and medium-sized businesses begin to grow at a rapid rate, they must adopt processes that make it easier to scale. With digitization, firms that need to grow fast can use automation to scale the organization and reassign resources when more critical needs arise.
What are the quantitative benefits?
Let's now get into some quantitative benefits that automation and digitization can bring to your business.
More speed, higher velocity
Manual processing of receivables and payables can be time-consuming. Automating these processes can have a massive impact on increasing the speed of AP and AR transactions. Not only does automation provide faster speeds, but it also leads to fewer errors and higher efficiency in teams.
Reducing operating costs
Automation helps your employees save time while increasing payment speed. It also helps you reduce the costs of processing payments. AP and AR automation software review your transaction amount, ensure the transaction is sent at the right time, maintain that transaction data, and reconcile the data with your accounting software.
Building up the bottom line
Anyone in business would tell you that building relationships is a key aspect you must consider when running a business. Businesses can create these strong relationships by building processes within an organization that fosters trust between customers and the business. Businesses using automation can provide a better and faster service, which helps reduce customer churn and increase customer lifetime value.
How to transform your business into a digital organization
Now that we've discussed some of the qualitative and quantitative aspects of digitizing your company's payments let's get into how you can enable this digitization and automation.
What to do
There are many ways you can digitize your business. However, since we are in the industry of payment digitization, that's what we'll focus on. To transform your business into a digital organization, you must automate your accounts receivable and payable processes. Digitization of payables and receivables will make your organization more efficient, competitive, and profitable.
What to consider
Whenever any organization is trying to make changes within the company, there is always inertia. As you are embarking on a process of digitizing your organization you must take into account your employees and partners concerns. Engage with your stakeholders and ensure a proper action plan is created to not only showcase how the change will occur but how this change will benefit the company. In our case, it's essential to include stakeholders such as your finance team, accountants, and other relevant parties and explain how digitizing AP/AR will help them and the organization.
Questions to ask
The "why's of digitizing in today's modern world is clear-cut in most cases. However, questions you may consider can be:
What sort of digitization and automation helps our organization at a high level?
How will these changes affect our efficiency, productivity, and profitability?
How will we integrate this digitization into our workflows?
All these questions can be answered according to your organization's specific situation.

Qualities to look for when considering digitizing AP/AR
Now that we've briefly covered how a company can begin to start digitizing its organizational processes, let's dive specifically into our area of expertise, digitizing AP and AR. Digitizing and automating AP and AR can tremendously benefit your business, as we've already covered. So if that's true, the question naturally becomes what qualities or features should I look for when digitizing an organization's business payment process?
Let's dive into seven key qualities to look for when considering a platform or solution that can help you digitize your payments.
Automated invoicing and workflow approvals
Of course one of the main tenets of automating accounts payable and receivable processes is the automation and digitization of invoicing. Your organization can have automated invoices set to process as recurring transactions or pre-authorized payments (PADs). By automating your workflow approval you can automatically invite required users to approve or reject transactions before they are processed.
Comprehensive audit trails and workflow approvals
Digitizing your accounting processes makes it easier to track the ins and outs of your organization's funds. As data is recorded more accurately, auditing can be completed more comprehensively. AR/AP automation can also help create more efficient workflows for your payment processing by eliminating tedious work and dramatically decreasing errors.
Accounting integrations
One of the key aspects you must consider when digitizing payments is how you integrate them with your accounting software. Integrations with software like Quickbooks or Xero can help your organization create clear payment records, audit trails, and have easy reconciliation. This not only eliminates data entry errors and inefficiencies but also gives you access to more financial data and insights that can help you make better business decisions.
Increase cash flow visibility
Digitizing your business payments helps you track your receivables and payables. This digitization and automation make it easier for firms to specifically track the inflows and outflows of cash at their company. Cash flow visibility is improved by knowing when you're receiving payments, where your transactions are in the pipeline, and where they will be saved once completed. Using digitization you can track cash flow, and through that information you can better track the financial health of your business.
Recurring payment capabilities
Similar to automated invoicing, automatic recurring payments can provide an easy and faster way for your organization to always make recurring payments on time. This can provide great visibility of your organization's inflows and outflows and can help you plan for your firm's financial future.
Automatic accounting reconciliation
Related to the accounting integrations, automatic accounting reconciliation is a major factor for firms when choosing an AP/AR automation platform. Automatic accounting reconciliation provides a two-way sync between your business's books and your preferred accounting software. This helps firms save time, cut costs, and improve workflow.
Secure real-time payments
Digitizing and automating your payments provides you complete visibility in your accounts receivables and payables. As you digitize manual payments, you get real-time information on the specifics of each and every transaction. Using an AP/AR automation platform to digitize your processes also provides you with peace of mind as these platforms use industry-standard security protocols to protect your transactions.
How does Plooto tie in?
Plooto is an end-to-end b2b payment platform. Plooto specializes in payment automation, however, a big part of automation is the digitization of payments. At Plooto time and time again we see our clients digitize their payments and increase their productivity and revenue. At the end of the day, we believe that digitization and automation can help your business scale faster and can help you focus on what matters most to you in your business.
We hope we have provided you with a better understanding of the benefits of digitization and the key qualities you should look for in an AP/ AR solution. Until next time!