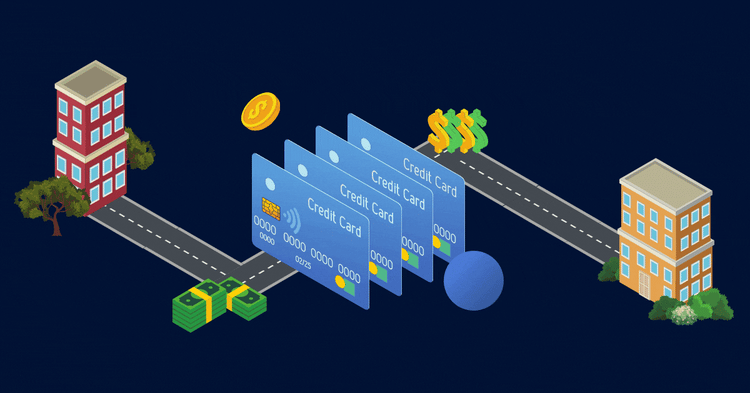 In today's climate, there's an even greater demand for a quicker turnover on business-to-business (B2B) payments than in the past. B2B businesses are constantly looking to identify faster ways of collecting payments to strengthen the business's cash flow.
Luckily the automated B2B payments space continues to grow at an exponential pace, improving and increasing the options for small and medium-sized businesses (SMBs), accountants, and bookkeepers to receive payments. Moreover, as companies provide more payment choices, it puts greater buying power in the customers' hands to grow their businesses.
Accordingly, SMBs have transitioned from collecting paper check payments to receiving payments through ACH payments, EFT payments, wire transfers, and credit cards. Amongst different receivables options, credit cards offer unrivaled benefits to those businesses looking to maximize their cash flow and bring more security around business payments.
Today, we'll help you understand the importance of accepting online credit card payments and explain how it can enrich your business, including improving cash flow.
Table of Contents
Why should my business accept online credit card payments?
As digital payment options become widespread with a spike in adoption rates, businesses are continuously moving away from traditional payment methods like paper check payments. Online credit card payment is reported to be the next big opportunity in B2B payments among the different digital payment options.
A survey by Mercator Advisory Group revealed an increase of 8 per cent in SMBs' use of business credit cards between 2019 to 2020. Now, this explains why your business may have felt the pressure from your customers to accept credit card payments. Not having a credit card payment option available could lead to missed opportunities.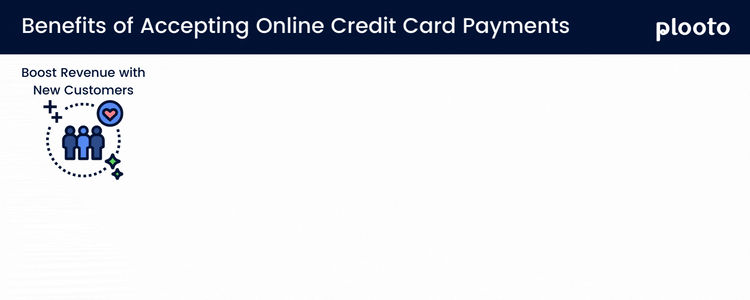 What are the benefits of accepting online credit card payments?
The most discussed benefits of accepting online credit cards as a method to collect
are reduced costs and time saved for a business. However, there are greater gains for your business on accepting online credit card payments.
Boost revenue with new customers
Amongst SMBs, accepting B2B payments with credit cards is not as widely used as other forms of digital payments. Thus, offering credit card payments as an option opens windows to adding new customers while increasing the competitiveness of your business. By accepting online credit card payments, never lose a sale and secure your business's potential revenue, creating a competitive differentiator.
Besides, with the growing number of digital payment options to receive payments, it's wise for your business to adopt early on currently available accounts receivable collection methods. So, later on, when new receivable options are introduced to the market, your business has the time and resources to test out the new payment collection method—not rushing and having enough time for your business to adjust and adapt the new accounts receivable practice reducing possible friction that can disrupt your business.
Increase customer satisfaction and reduce churn rate
As for your existing customers, offering an online credit card payment option can help lock in your current customers and prevent them from switching out to your competitors that provide a credit card payment—keeping the churn rate low. Moreover, your customers may have already shown a preference to do business with credit cards. What's better customer satisfaction than having them feel heard.
By accepting online credit card payments while your company is securing payment, on the other hand, allows flexibility for your customers, freeing up their working capital. Providing customers with diverse ways to pay their bills naturally increases customer satisfaction and ensures a channel for you to receive payments.
Improve cash flow
Adding online credit card payments as a new stream to receive payments will accelerate the speed to close accounts receivable. On average, the processing time for online credit card payments is much faster than other digital payment options.
Receiving an online credit card payment takes approximately two business days to clear, whereas other forms of digital payments usually range from four to seven businesses days before your business receives the payments. Given access to collect funds faster will accelerate cash inflows for your business. Plus, improved cash forecasting makes it easier to control cash flow.
Additionally, your business can offer advance early payment discounts, incentivizing your customers to pay on time or even earlier. With credit cards, your customers have a float period, so they don't need to have the actual cash in the bank when making the payment—allowing your customers to take the incentive you are offering. On the other hand, invoice to cash becomes faster for your business.
Increase security with transparency
As your customers steer away from making paper check payments, it reduces the potential fraud threats to your business related to receiving check payments. Indeed, in the latest report by AFP, checks (66%) followed by wire transfers (39%) were the top two payment methods targeted for fraud.
Furthermore, as credit cards are not connected directly to the customers' bank accounts, it lowers the exposure to risks and increases security. Plus, most business credit cards are protected with liability coverages, creating extra protection for your business and customers.
Accepting online credit card payments also provides complete financial transparency from the start of the transaction to the end, making your payment collection process more secure. Besides, for your customer to have a credit card, they are pre-screened by their credit card companies before getting their business credit cards issued. Further minimizing the risks and effortless adds an extra layer of protection for your company.
Streamline collecting payments
Payments Canada found that amongst SMBs, as the usage of checks declines, there's an increase in the number of businesses using cards. No more waiting for the mailed checks to be received in time for payment due date, wasting time manually processing paper check payments, bounced checks, chasing after your customers to receive replacement checks, and manually correcting the books. With credit cards, your customers can make payments in time regardless of having the actual cash on hand while your business has the money deposited into your bank.
Moreover, adopting an accounts receivable automation (AR Automation) tool with an online credit card receivable feature eliminates manual efforts while simplifying reconciliation. As a result, make your business finance automatically streamlined.
A survey conducted by the Association for Financial Professionals (AFP) found that over 60% of organizations believe that B2B transactions are benefiting the most from faster payments. Your business can increase payment collection efficiency by accepting online credit card payments while reducing bad debt expenses and accounts receivable write-offs.
Reduce cost and save time
Online credit card payment is a favorable alternative to eliminating paper check payments. Your company can avoid the high cost of manually processing paper checks and forgo waiting time on receiving check payments, saving both cost and time.
As stated previously, an online credit card with accounts receivable automation means reduced manual work and zero effort in the reconciliation process. Take the opportunity to optimize unnecessarily administrative costs and reduce administrative burden.
Now What?
Now, you understand the importance and benefits of accepting online credit card payments from your customers. What's next? Add a credit card payment option for your customers using Plooto with a
to eliminate tedious manual financial processes.
What is the best option to accept online credit card payments?
The last thing you'd like for your business is to increase the number of software to process and manage business payments and receivables. Switching back and forth different financial and accounting software can be heavily disruptive for your business and increase the chance of errors while increasing stress for you or your company. That is why you should start accepting credit card payments with Plooto!


is a cloud-based accounts payable and accounts receivable software that integrates with popular accounting software (
and
) and accepts credit card payments. With Plooto, your business can consolidate all financial processes into a single software. Plus, Plooto includes various accounts receivables options besides credit card payments, like pre-authorized payments (PAD).

Plooto is the all-in-one solution known for ease of use for all types of businesses, so simple that no accounting or financial background is needed. Plooto will be your organization's best friend in taking care of both your business payments and receivables.
How do you accept online credit card payments?
Integrating Plooto into your finance business process will enable your business to collect payments as simple as a few clicks from syncing your invoices from your accounting software, requesting payments from the payor, to automatically reconciling back to the accounting software. Accepting and managing receivables can now be done with speed and simplicity.
Are there any fees for accepting online credit card payments?
B2B businesses haven't commonly accepted credit cards as a form of payment for one main reason. Offering credit card payments becomes a burden for companies as there is a high transaction cost to process the received credit card payments.
On average, credit card processing fees can range up to 3.5%, plus a flat fee. However, with Plooto, your business can accept and process online credit cards with a lower rate of 2.9% + $0.30 per online credit card payment received.
Bottom line
Suppose you're still hesitant but see the value in expanding credit cards as a payment option to your customers. Start with a
of Plooto, no credit cards required, to experience the complete package of accepting credit card payments with AP and AR automation as a bonus.