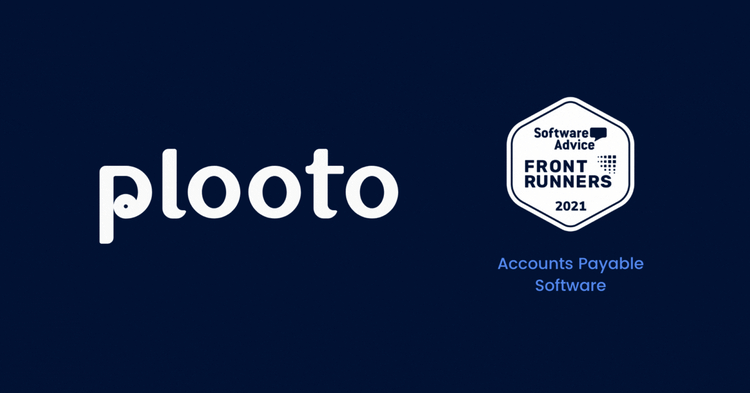 was included in the Software Advice's Accounts Payable Software Report as one of the FrontRunners. Plooto is a cloud-based payment and receivable software solution that offers robust accounts payable (AP) and accounts receivable (AR) features, including but not limited to workflow approval, online check payment, automation, and automatic reconciliation.
The Accounts Payable Software Report published by Software Advice included Plooto and other companies like Xero and QuickBooks.
How Did Plooto Make the List?
Software Advice selected the FrontRunners in the Accounts Payable Software report based a score calculated based on user reviews, considering the two main factors or usability and customer satisfaction.
Plooto was included in the FrontRunners for the Accounts Payable Software report as Plooto had over 20 unique product reviews within the 24 months of the Software Advice's research process for the report. Additionally, the rating was beyond the cut-off for both usability and customer satisfaction. Moreover, Plooto offers solutions to North America's businesses with the required functionality as accounts payable software.
Why Companies Love Plooto:
Plooto has certainly helped us from a workflow perspective, it's pulling your payables from your Quickbooks or Xero account into Plooto so you can see all the payables that you need to deal with and when they're due. And there's a whole bunch of approval processes you can put in place for internal controls perspective so make things a lot more bulletproof than just manually writing checks and doing e-transfers.
Aislinn,
Entreflow Consulting Group
Fantastic option for an accounting firm! We've transformed our accounting firm from traditional "after the fact" billing and collection, to a monthly recurring fee model using Plooto. It has automated one of the most painful parts of running an accounting firm. Our clients love to do their own Receivables, Payables and CRA payments using Plooto.
Varun,
Think Accounting
Great financial software for small and mid-sized organizations We use the software for payment of invoices including external vendors, staff reimbursements, and payroll. Works perfectly for us. Just a few clicks and there are adequate checks and balances features to ensure accountability and security.
Scott,
CACHC
About Plooto
automates both AP and AR, reducing hours spent managing finance for finance teams of small and medium-sized businesses (SMBs), accountants, and bookkeepers. Plooto allows full control over finance in a simple and streamlined way along with two-way sync with accounting software (QuickBooks & Xero). Plooto servers' wide range of clients from different industries:
About Software Advice
Software Advice helps entrepreneurs and professionals to reduce time spent searching for software. Until today, Software Advice has helped more than 750,000 businesses to navigate the software buying journey supporting their decision through verified user reviews.
*FrontRunners constitute the subjective opinions of individual end-user reviews, ratings, and data applied against a documented methodology; they neither represent the views of, nor constitute an endorsement by, Software Advice or its affiliates.