We've launched some helpful new features that will make it easier and faster to approve and set up payments.
Show Invoices
Now you can include invoices with your payables and receivables.

Using paper-based processes, accountants would fill out checks for corresponding invoices, stack the check and invoice together, and give them to the business owner or finance contact for signatures.

With cloud software, accountants could set up the payment in Plooto directly from the invoice information in their accounting software and send an email to the business owner or finance team to get the necessary approvals. This electronic process eliminated the stack of paper and made payments much easier, but there was still a gap. Approvers needed to look at invoices stored in their accounting software alongside the payment email from Plooto to verify that the payment information matched the invoice.

With the ability to show invoices, there is no need to look at two different systems to approve payments. Any invoice you have stored in your accounting software will be included as an attachment to the payable or receivable in Plooto. Your invoices will remain stored in your accounting software – whether that is QBO, QBD, or Xero – but approvers can now review the payment and invoice in one quick step.




By turning on Show Attachments, the invoice attachment will also be included for your payees.

To turn on Show Attachments, go to your Settings, then Company Settings. Here you'll see an option to "Show bill/invoice attachments to contacts".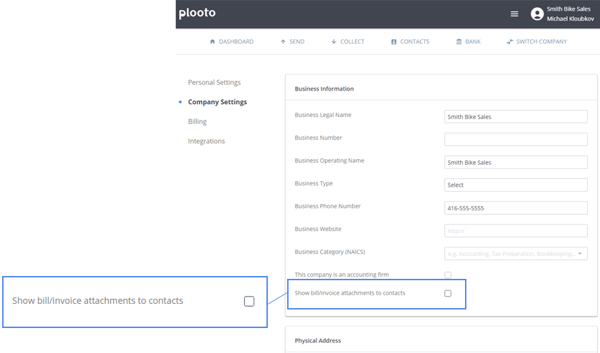 Select this option to include invoices with payments for all of your contacts.

Show Attachments helps your clients and payees get the information they need quickly and easily.
Default Bank Account
You can now set a default bank account for all of your payables and receivables.

Previously, you were able to select your desired bank account for each payable and receivable. However, we realize that most of the time, you want your payments to be deposited and withdrawn from one account.

Now you can do just that by setting up a default bank account. Your payments will be set to withdraw from and deposit into this account automatically, so you can skip the bank account selection step during your payment set-up.

Don't worry – you aren't locked into using this account for all of your payments. If you want a payment to be deposited or withdrawn from a different account, you can easily do this by selecting your desired account during the payment set-up.

To set up a default bank account, go to the bank tab. Under your Account Details, you will see the option to "Pre-select this account for new payments and requests".




Select this option to set that account as your default bank account.

Setting up a default bank account eliminates manual steps while still giving you the flexibility you need.

Start using Plooto to streamline AR and AP today with a free 30-day trial.