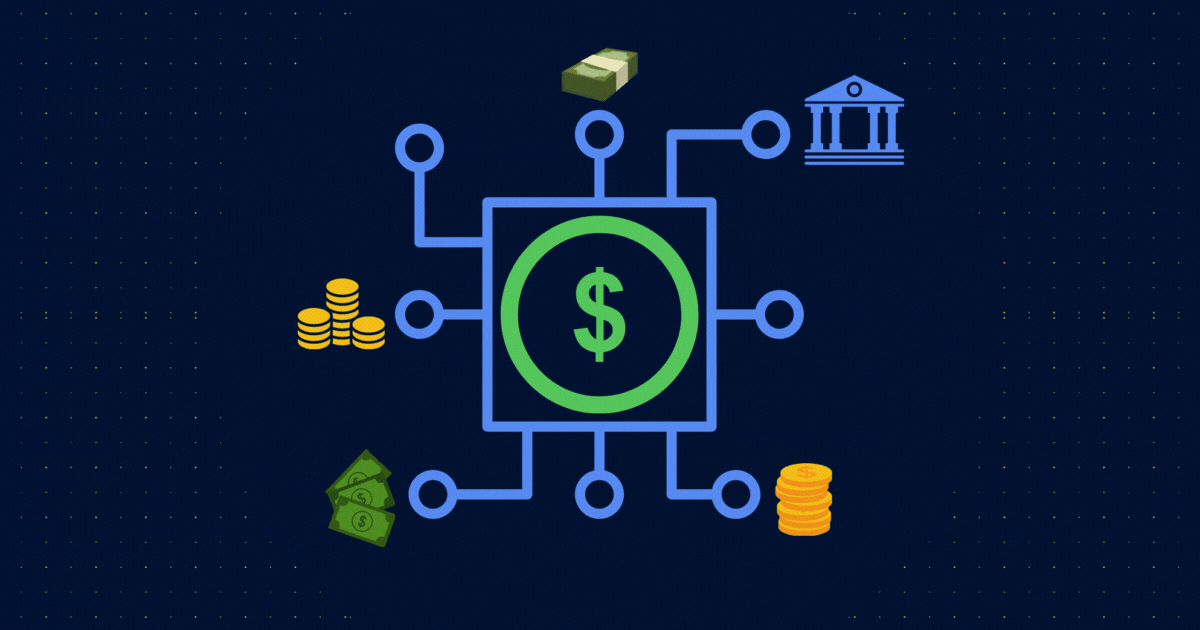 If you've managed the finance of a business, you would be familiar with both automated clearing house, also called ACH, and electronic funds transfer, also called EFT. Or, maybe you're unfamiliar with both terms, but there is a high chance that your business has either paid or received a payment through one or both of the electronic payment types.
People frequently ask the question and wonder, are ACH and EFT the same? What's the difference between ACH and EFT? The answer to this question is that ACH transactions are the same as the EFT, but EFT transactions are not the same as ACH. Now that is confusing! Don't worry, as you will have a clear understanding of both ACH and EFT once you reach the bottom of this page.
Table of Contents
What are EFT payments?
EFT is the process of electronically moving funds from one bank account directly into another bank account without using a check or getting assistance from a bank representative. Businesses can use EFT payments to send payments directly to vendors and suppliers or collect payments directly from clients and customers without sending anything through the mail. EFT payments also support both single-entry and recurring payments. However, you cannot use EFT to send money to businesses outside of Canada.
According to the Canadian Payments: Methods and Trends 2020 by Payments Canada, EFT is one of the top three payment methods used by Canadian SMEs. In Canada, from 2018 until now, EFT transactions continue to be the highest value of the transaction, dominating 50% of total payment value.
What are ACH payments?
ACH is an electronic funds-transfer system run by the National Automated Clearing House Association (NACHA) to electronically transfer funds from one bank account directly into another bank account without using a cheque or getting assistance from a bank representative.
In 2020, NACHA reported that ACH Network hit record growth to 26.8 billion payments moving nearly $62 trillion. Moreover, within "Business-to-business (B2B) payments by ACH for vendor and supply chain payments rose almost 15% from the fourth quarter of 2019 to 1.2 billion."
What's the difference between ACH and EFT payments?
Although both ACH and EFT are electronic payment types, there are key differences:
ACH payments can only be

initiated

from the United States (US).

EFT transactions can be processed as fast as in real-time. On the other hand, even with the improvement since

March of 2018

, shortening the processing time, ACH transactions mainly require up to 2 business days. Starting March 19, 2021, NACHA plans to expand access to

Same Day ACH

, increasing one day ACH payments.

An EFT transaction can happen

either between banks or directly from person to person

, but ACH payments must be

bank-to-bank

transfers.
What are the similarities between ACH and EFT payments?
Similarities between ACH and EFT payments are the benefits of both ACH and EFT payments.
Well, as we now know, both ACH and EFT are types of electronic payments, which in other words mean that business payments can be processed remotely

Accordingly, both ACH and EFT provide

seamless

accounts payable (AP) and accounts receivable (AR) financial processes for businesses.


Although, ACH may not always be instead. Both ACH and EFT payments are faster and cost-efficient for the business than processing check or credit card payments.




Both ACH and EFT payments have high-security measures and protocols in place, making both payment types safer than check payments.




There are no additional processing times required to access the deposited money through ACH or EFT, allowing more dependable cash flow. In contrast, check payments may be subjected to the banks holding onto the funds and take a couple of business days to clear and release the money for businesses to use.




Both ACH and EFT support single or recurring payments reducing discomforts associated with recurring payments.



Finally, you can remove manual bookkeeping and reconciling if you use a payment solution that offers electronic payments that connect with accounting software allowing your business to automate the process.
Both EFT and ACH payment usages amongst the businesses are evident. If you already haven't, it's time to adopt a digitalized financial process for the company. Plooto is a modern cloud-based ease to use and affordable payments and receivables solution that allows both ACH and EFT for your business.