Up until 2016, Think Accounting was a traditional accounting firm. Like most, they struggled with their Accounts Receivable. The constant friction of invoicing after performing work for clients, following up on amounts due, receiving cheques and e-transfers after weeks and months amounted to constant headaches and strained their cash flow. Toward the end of 2016, Think Accounting decided to transition to becoming a cloud-based accounting firm and were determined to grow fast and scale the firm.
With Plooto, Think Accounting has been able to transform to become a technology focused firm, build a predictable cashflow model, onboard over 100 customers to automated AR, and save over $2,500 a month on accounts receivable related tasks alone.

Table of Contents
---
The Client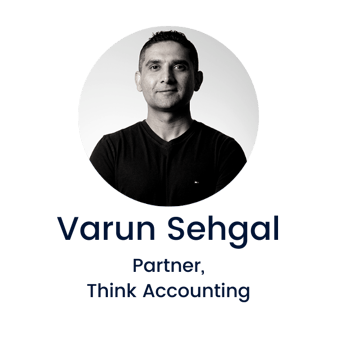 Think Accounting has decades of bookkeeping, accounting, and business advisory experience all under one roof. They are a team of proactive, progressive-minded professionals with diverse skill sets, allowing them to develop tailored accounting and business advisory solutions for any client or industry.
By taking an in-depth look at business needs and organizational goals, Think Accounting matches client needs with a combination of the right technology and team to streamline and synchronize accounting processes.
---
The Challenge
Toward the end of 2016, Think Accounting decided they needed to transform their business and transition to becoming a cloud accounting firm. They were determined to grow fast and scale their firm.
In growing fast and becoming a cloud-based accounting firm, Think Accounting was faced with a major problem; their cash inflow and outflow was becoming more and more out of sync. Scaling and becoming a larger company meant hiring more staff who all need to be paid every 15 days. But at the same time, they were still billing clients annually which caused the mis-alignment in their overall cashflow.
Think Accounting knew there had to be a better way!
---
The Solution
Think Accounting adopted Plooto in 2017 and haven't looked back since. It has become one of the core apps in their cloud accounting tech stack helping their firm scale, solving their cashflow issues while also saving their small business clients a ton of money and time!
With Plooto, Think Accounting was able to have the hard conversations with their current clients about moving to a monthly vs annual billing cycle for services performed. Their clients came on board with the idea and enjoyed the ease of monthly pre-authorized debits compared to the previous billing system.
Now, we don't have to think about invoicing our monthly clients every month …the fee shows up in our bank account!
Varun Sehgal

Partner, Think Accounting
The overall benefits seen by Think Accounting from adopting Plooto include:
Cash flow is smoother and predictable for clients paying by Plooto
It's lowered their AR write-offs and discounts
It fits with their brand of being a tech savvy firm
Smoother cash flow has enabled them to weather the lean periods
It has enabled them scale their firm and grow their team
---
The Results
Think Accounting estimates that Plooto saves their firm at least $2,500/mo when they consider the reduction of bad debts, reduction of "discounts" due to late invoicing/payment, time saved on invoicing and collections, and more. In terms of time-saving, they see more than 15 hours per month based on their current client base size.
At the current moment in time, Think Accounting is approaching over 100 clients for whom they have automated the Accounts Receivable process and they are continually adding more clients each day. Plooto has become the default software of choice and an integral part of the onboarding process for all monthly bookkeeping clients.
For any business with a recurring fee model, Plooto is a no brainer," says Varun, "It eliminates paper, smooths out cash flow, reduces AR headache, and so much more. For modern businesses running in the cloud, Plooto is a must!
It's not just Accounts Receivable that is being automated for Think Accounting and their clients — on the AP side as well, Think Accounting has eliminated cheques and pay all their vendors from monthly rent to their IT technician via Plooto.