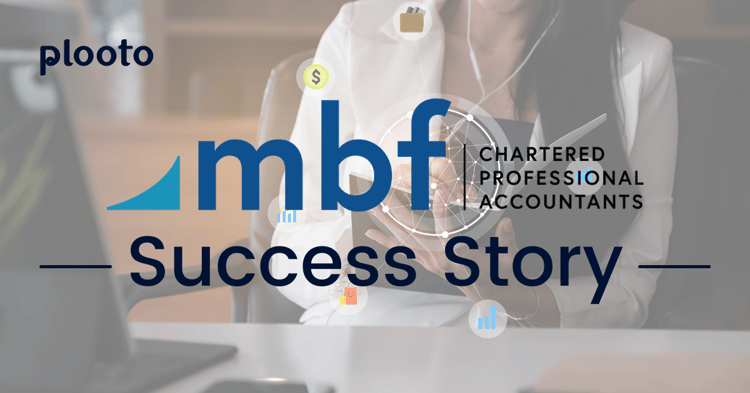 I think Plooto was best described to me by a client with one simple word, magic.
Exponential

Cost Saved

8 hrs / week


Time Saved
Table of Contents
The Client
| | |
| --- | --- |
| mbf Chartered Professional Accountants is a small boutique accounting firm in rural Nova Scotia, Canada. The company offers accounting, tax, and business advisory services to owner-managed small and medium-sized businesses (SMBs). Behind the scenes of a startup's journey to small businesses, all the way to a multimillion-dollar business, is mbf Chartered Professional Accountants. | |
---
The Challenge
Before mbf Chartered Professional Accountants was introduced to Plooto, the company experienced the pains tied to routine manual tasks from printing checks, running to the bank, chasing after for authorized signatures, to reconciling the books for their clients, and themselves.
On top of the time-consuming and frustrating manual processes, the company also encountered hefty administrative costs from different manual procedures like mailing checks.
With a growing business, manual processes became a bottleneck in collecting payments from clients, which negatively impacted cash flow.
---
The Solution
With
, mbf Chartered Professional Accountants experience the power of payments and receivable automation. Along with the easy usage of Plooto, a cloud-based solution, cut down on time by pulling payments from a client and making payments to external vendors from anywhere in the world with
.
Plooto's
and accounting software integration feature increased visibility of payments with easily accessible invoice attachments to double confirm before approving multiple payments at once.
With Plooto's
, mbf Chartered Professional Accountants have seen an immediate improvement in collecting payments with simple and straightforward procedure for clients with eliminating electronic transfer limits to have payments seamlessly deposited into the bank.
---
The Results
With Plooto, mbf Chartered Professional Accountants no longer need to print checks, run to the bank, waste time traveling, or wait for an authorized signature to complete payments. Instead, the company can provide advanced help to clients seamlessly managing their finance without manually enter data or reconciliation.
Now with Plooto involved, it's like magic.
mbf Chartered Professional Accountants is continuously saving cost and time with Plooto allowing the company to keep minimal administrative staff while increasing the accuracy of internal books and improving their service to satisfy their clients further.
[Plooto] has allowed us to better serve our external clients as we help them implement and grow their own payment solutions.
is at the cornerstone for mbf Chartered Professional Accountants in continually adapting and adopting advancing technologies to improve the quality of work.