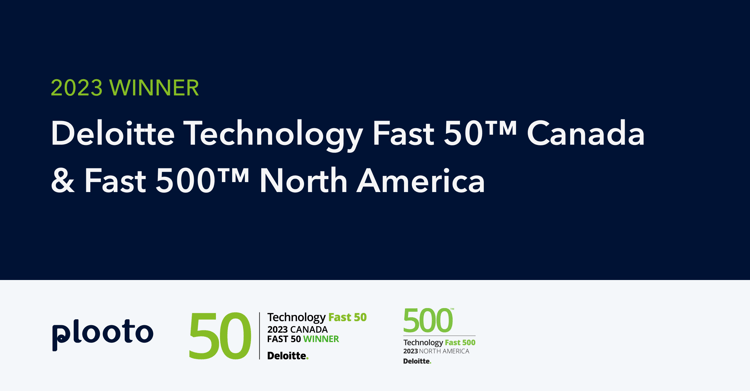 The company's staggering 3-year 433% growth rate is powered by laser-focus on customer-centric product innovation, key leadership hires, and $24M Series B funding
TORONTO, November 8, 2023 — Plooto, a leading payment automation solution for small-to-midsize businesses, today announced it was named a 2023 winner of the Deloitte Technology Fast 50™ Canada and Deloitte Fast 500 North America awards.
Fueled by its commitment to deliver powerful and accessible payments technology to growing businesses, Plooto grew revenue by an astounding 433% between 2019 and 2022, leading to its coveted ranking by one of the world's top accounting and business consultancies.
Plooto makes it easy for businesses and accounting firms to automate their accounts payable and accounts receivable in one seamless platform. In a 2023 survey, nearly 48% of small business owners in Canada reported cash flow as their most significant concern. Plooto's all-in-one solution alleviates the pain of manual processing, approvals, and reconciliation and puts control over cash flow back in the hands of finance professionals so that they can invest in growth opportunities.
"We're thrilled to be recognized by Deloitte on their Technology Fast 50 and Fast 500 lists for our innovation in the payments technology sector. 82% of businesses that fail report that lack of cash flow was a contributing factor. We founded Plooto on the belief that growing businesses should have access to technology that makes it easy to manage their cash. Our exceptional team has built an all-in-one accounts payable and receivables solution that solves this crucial need for small-to-midsize businesses," said Hamed Abbasi, CEO of Plooto.
A pivotal component of the company's growth is its dedication to simplifying complex workflows with speed, accuracy, and an easy-to-use interface. Plooto's newest capabilities include:
Plooto Capture - Businesses save valuable time by importing invoices via email or in-app upload. Invoices are automatically processed, paid, and reconciled in accounting software using state-of-the-art character recognition technology.
Credit Card Acceptance - Businesses can process payments faster and secure cash flow continuity by submitting or receiving payments via credit card in the Plooto app.
Unlimited Free Transactions - Companies that process high volumes of payments save money and time with the Grow Unlimited plan which offers free ACH transactions.
Plooto continues to heavily invest in product development prioritizing additional security and approval controls to enhance safeguards against fraud and human error, payment options that increase the speed at which businesses can send and receive payments, and integrations that enable even more companies to benefit from the power of all-in-one payment automation.
The Toronto-based SaaS company closed in late 2022 an all-equity $24M USD Series B funding round led by Centana Growth Partners with participation from existing investors FINTOP Capital and Luge Capital amongst others. The investment enabled Plooto to rapidly scale a highly experienced, global team of senior leaders including veterans of PayPal, Xero, and Varo Bank. In 2024, Plooto plans to invest in go-to-market expansion, scaling operations, strategic partnerships, and growing its team of talented innovators to support thousands of additional businesses.
___________________________________________________________________________________
About Plooto
Plooto partners with growing small-to-midsize businesses to give them complete control over their cash management. The all-in-one payment automation platform securely automates all payable and receivable workflows, offers extensive payment capabilities, and seamless integration with accounting software to automatically reconcile invoices. Founded in 2015 and headquartered in Toronto, Plooto serves nearly 10,000 North American businesses, and integrates with top accounting software platforms Quickbooks and Xero. Simplifying complex processes at scale, Plooto is the financial engine businesses rely on to achieve their growth potential.
About the Deloitte Technology Fast 50™ program
The Deloitte Technology Fast 50 program is Canada's pre-eminent technology awards program. Celebrating its 26th anniversary, the program recognizes business growth, innovation, and entrepreneurship in four distinct categories: Technology Fast 50 ranking, Enterprise—Industry leaders, Clean Technology, and Companies-to-Watch. The program also recognizes companies within the North American Technology Fast 500 ranking, identifying thriving technology companies in the United States and Canada. The 2023 program sponsors include Deloitte, RBCx, Osler, EDC, CCI, TMX, Clarity, and Lafond. For further information, visit www.fast50.ca.
About the 2023 Deloitte Technology Fast 500
Now in its 29th year, the Deloitte Technology Fast 500 provides a ranking of the fastest-growing technology, media, telecommunications, life sciences, fintech, and energy tech companies — both public and private — in North America. Technology Fast 500 award winners are selected based on percentage fiscal year revenue growth from 2019 to 2022.