At Plooto, we know that approvals are a critical part of any financial workflow, especially when it comes to payments. Today, we're introducing improvements to make managing your payment approval rules easier. These improvements include:
See payment approval rules in a single page
Create a single rule to apply approvals to all accounts
Enjoy seamless migration for existing rules
See Payment Approval Rules In A Single Place
The first improvement you will notice is that payment approvals rules now have their own dedicated section inside the application. From here you can see all of your approval rules in a single, simplified view. When you open the approvals tab, you'll see all the approval rules you have for your company's accounts on Plooto, plus, a preview of the dollar ranges for the limit tiers you created:

From here, when you open an approval rule, you will now see more detailed information, including how many approvals are required within each dollar range, the total number of approvals required to satisfy the rule, and the people from whom approval is mandatory to satisfy the rule: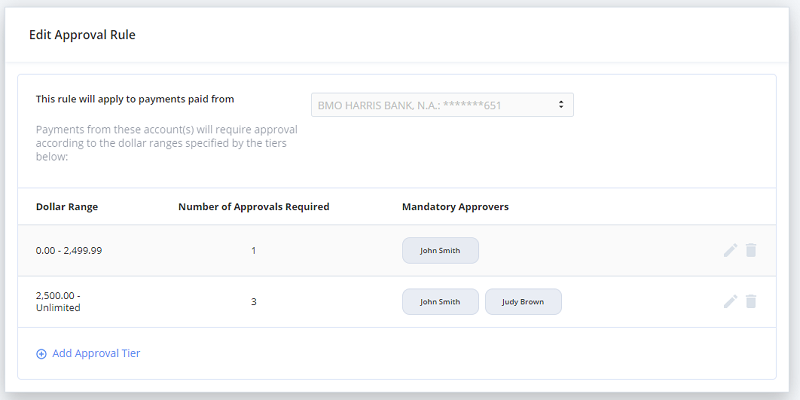 Create A Single Rule to Apply Approvals to All Accounts
If you have multiple bank accounts or use Plooto Instant, you can now create a single rule that will apply to all accounts, saving you the hassle of needing to create the same rule multiple times. Flexibility still remains to create different rules for each account, if that suits your workflows better.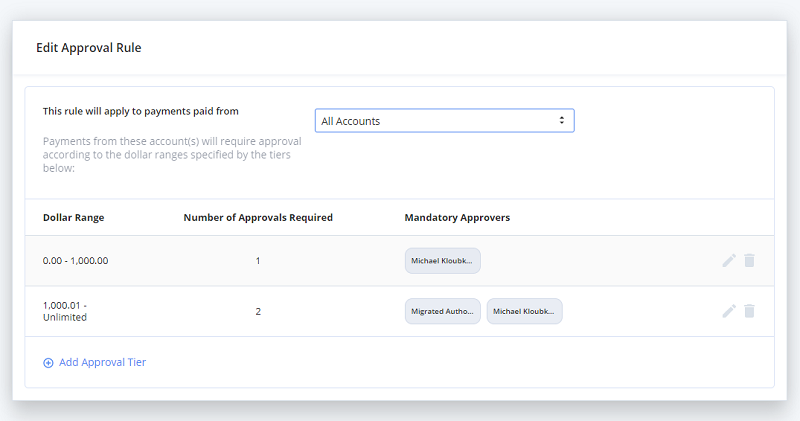 It is important to note that catch-all rules (rules applying to all accounts) and rules for specific accounts can be created concurrently. If this occurs, the approval rule for the separate account will take precedence over the catch-all rule.
Seamless Migration for Existing Rules
Lastly, if you have any existing approval rules, they will continue to work exactly as they did before. There is no action you need to take to have your rules migrated to the new format – you will simply see them under the new view.