Coming January 7th, you and your clients will see some changes and improvements when onboarding a new business to Plooto. Don't worry — the requirements aren't changing, but you'll see a simpler layout to make things easier and faster for you to get going.
What changes will I see starting January 7th?
You will see two changes to the onboarding steps on January 7th. The first change is a new step-by-step layout for the company verification. Next, for users who need to complete the ID verification on Plooto, they'll be guided through the ID verification steps as soon as they log in.
Company Verification
When you begin the verification process for a new company, you'll now have an easy overview of what steps have been completed and what is still outstanding: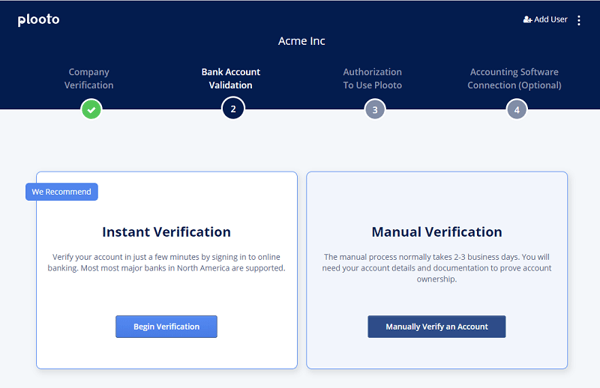 As a reminder, these are the steps to become verified on Plooto and begin making transactions:
Confirm details about the company and current operating status.
Add and verify ownership of at least one bank account.
Have an authorized person allow the account setup (this can be the business owner, a partner, or a member of the board of directors).
Optionally, connect to either QuickBooks or Xero.
When these steps are completed, we'll review the submission. During normal business hours, most reviews are completed same-day! At longest, reviews may take 1-2 business days.
ID Verification Step
Only people who are selected to authorize the Plooto account will be prompted to verify their identity. Remember, that can be either the business owner, a partner, or a member of the board of directors. When they open Plooto, right away they will see what steps they need to take next: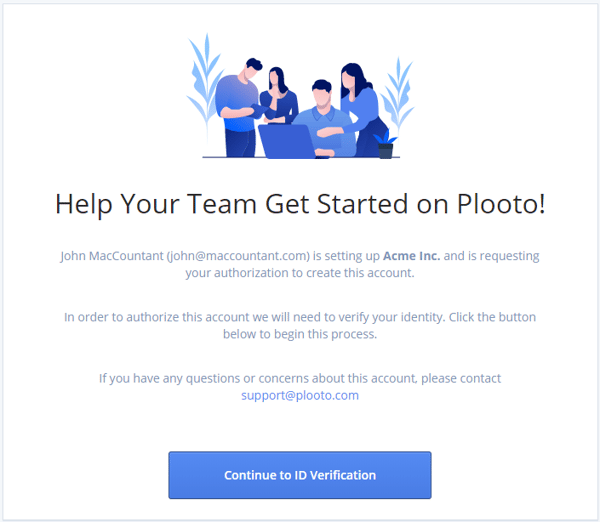 They will then be guided through options for identity verification:
Remember, if a user chooses to perform the Online Verification check (currently available in Canada only), Plooto will use Equifax to generate challenge questions to verify their identity. This is not a credit check, and Plooto will not store any of the personal data from the questions.
Why is this information needed, anyways?
Both during your initial verification and an ongoing basis, we work to ensure that all our clients' information and funds are protected. By verifying information about everyone who uses the Plooto platform, we help protect you, your clients and ourselves, and ensure that we're following the law. Although we know our customers are excited to begin using Plooto to streamline their AP and AR workflows and get going right away, we won't ever compromise on keeping your funds and your accounts safe.