Plooto Product Updates
Take a peek at Plooto's product improvements and changes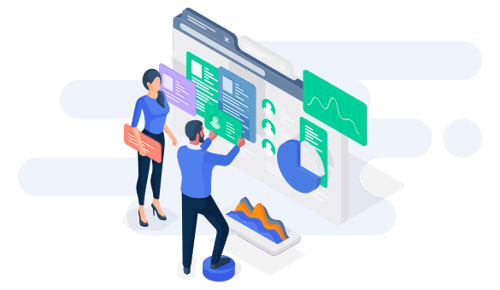 July 9, 2021
Featured Enhancements:
Increases to international payment limits: Based on your feedback, we have revised our payment limits for multiple currencies. The limits have increased when making transactions from CAD and USD to the following 8 currencies: AUD, CNY, EUR, HKD, KRW, MXN, RUB, and USD/CAD. To view the new limits, please refer to the bottom of our support article.

Add attachments directly to your payables: Along with the ability to import your attachments from your accounting software alongside your payables, you are now able to attach up to 5 files to a payable directly in Plooto. Attachments added to your payables will be synced back to your accounting software.
Security Enhancements:
At Plooto, the security of our customers is always on top of mind. With the increasing rates of fraud and hackers, over the next year, we will be making major improvements to our security to ensure a safe and sound experience for you and your business. Keep a lookout for more updates!
Email notifications for changes to approval tiers: To ensure high-level of security for our users and to protect from potential unauthorized access and edit to your accounts, we have implemented email notifications that will be sent to Administrators, CFOs, Accountants, and other users with select permissions (those who can edit payee, payments and bank accounts) when changes are made to your approval tiers.

Notifications for unusual logins: To minimize unauthorized access and increase the protection of our users without 2FA, Plooto will notify and email all relevant users (the user logging in and other users with the ability to add/edit users and permissions) when our system detects unusual login activity such as browser version change, device ID change and/or IP address location change.
May 7, 2021
Enhancements:
Ability to send EUR and USD to Denmark: Along with DKK, you are now able to send EUR and USD to your vendors in Denmark

Brazil now available for FX payments: You are now able to send BRL and USD to your vendors in Brazil

Better visibility for Credit Failed Reasons: When international payments failed, you were only able to see it as "Credit Fail due to account not found" although there could have been other reasons. Now, you are able to see the exact reason to address the issue quickly.
Hot Fixes:
Accountants on Plooto can now choose to add a client or a new company: When accountants were adding their clients to Plooto, it defaulted them to create a new company. We resolved the issue and now you are able to choose between adding a new client or creating a new company
April 9, 2021
Featured Enhancements:
Israel and United Arab Emirates now available for FX payments: You are now able to send payments to vendors and suppliers in Israel and UAE through Plooto

More competitive FX rates: We strive to provide you with the best experience possible, and that includes FX rates. Through evaluation and review, we are happy to announce that we found a way to lower our rates for Plooto customers!
Other Enhancements:
The check numbers will be displayed on your audit trail: We have included check numbers to your audit trail to give you better visibility and help you keep track of your payments on Plooto.

Referral Program coming soon: Do you enjoy Plooto and tell others about it? Well, we want to make it worthwhile for you by introducing a referral program with cash rewards! Stay tuned for more information and details on how you can start earning with Plooto.
Hot Fixes:
Payments to Mexico and Australia will not require SWIFT codes and Routing Number: Some users were having issues sending payments to Mexico and Australia due to SWIFT code and/or routing number requirements on Plooto. We resolved this issue by removing the SWIFT code and routing number requirement.

Accounting Firms can now fully remove clients from their accounts: Previously, accounting firms were not able to fully disconnect a client from their account without leaving a remaining user with Add/Edit user permissions. Now client accounts can be disconnected from the accounting firm accounts.

Users can now specify a purpose for international payments: When sending payments we defaulted the purpose of payment to "Purchase of Service(s)", but the recipient bank flagged an issue with the transaction if the business didn't offer services. To resolve that issue, you are now able to set the purpose of payment at the contact level.

System emails now sent from @plooto.com and not @plooto.co: Previously, our system emails were sent from team@plooto.co, but we received concerns that some customers believed it was fraudulent. We have updated it to team@plooto.com to mitigate the concern.

Failed Checks were being incorrectly marked as "successful": There was a bug where failed checks were marked as successful, but now it will display the status correctly as "failed".
Click here to see all of Plooto's release versions
March 5, 2021
Featured Enhancements:
Along with exciting additional enhancements to Plooto's international payments, we have also improved our accounts receivable functionality!
Ability to make a payment directly from the FX calculator: In our previous release, we introduced the FX calculator located in the sidebar section of your dashboard. In this release, instead of only being able to make hypothetical transactions, you are now able to generate a payment directly from the FX calculator in any of the supported currencies.

FX exchange rate displayed on the payables page: When creating international payments from the payables page, you are now able to take the guesswork out and view the FX rate of your payment in the currency of origin.

Refunds available for Accounts Receivables: You are now able to issue refunds on completed accounts receivable directly to the payor's bank account, without adding them as a contact. Refunds are limited to domestic transactions only, and FX will not be supported. To learn more about refunding receivables, refer to our support article.
Other Enhancements:
Transaction breakdowns for Approvers on Plooto: When multiple payments are being sent to one recipient on Plooto, the approvers were only able to see the totals per payee. With our latest release, approvers are able to view the transaction breakdown per recipient!
Hot Fixes:
Ability to pay China without issues: Some users were having issues with sending payments to China as the CNAPS number was required by Plooto when attempting to send USD or CNY. We resolved this issue by removing the CNAPS requirement, and you only need to provide the SWIFT/BIC code.
February 4, 2021
Featured Enhancement - International Payment & FX:
In this release, we are providing a sneak peak of some exciting improvements and additions to your international payment experience on Plooto.
FX calculator added to the dashboard: Curious to know what competitive rates we provide for FX? Now you can with our new FX calculator! It's now available for you in the sidebar selection on your dashboard, which will bring up the FX calculator and allow users to make hypothetical transactions to any supported currency.

Base currency displayed on the list of payables: When reviewing your pending and completed payables, now you're able to view base currency paid along with the foreign currency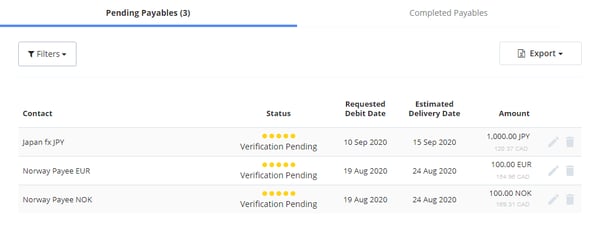 Other Enhancements:
Xero authentication upgraded to OAuth2.0: Our Xero integration has been upgraded from OAuth1.0 to OAuth2.0, which means a more SECURE and FASTER sync between Plooto and Xero.

For those that have not been migrated to OAuth2, you will be displayed an error the next time you log in and try to reconnect to Xero. To resolve this issue, please disconnect from Xero, then reconnect by following the steps in this article

Bounced email notifications: When a system email bounces, including payment related emails, Plooto will notify the admins of the account. This will help you stay on top of your payments and potentially prevent delays!

For Accountants on Plooto, track your progress: Did you know that your account is free when you activate 3 of your clients on Plooto? Now you are able to track the number of clients added with our new progress bar on your billing page.
December 30, 2020
Enhancements:
CRA limits will be increased to $25,000 per transaction from $11,000

Users can now search for Plooto Network Payees directly from the payee selection dropdown. They will be asked to enter their account number to save the contact to their Plooto Account before sending out the payment.

Users will now be able to add multiple non-Plooto user recipients for Billing Update emails. Billing Update emails can now be sent to any email address.

We are adding an approximate delivery time to the Email Money Transfer confirmation email templates

The 'Payment Requires Approval' email template will be updated to include the company's operating name and not their legal name. This name should reduce any confusion approvers had if they couldn't recognize the legal name. If the operating name is not available for a given company, the legal name will be presented instead.
Bug Fixes:
When selecting a Plooto Network Payee from the Pay To selector drop-down, the account number was not displayed in-line for Plooto Network Payees. As of this release, users will see their account numbers for all contacts, including their saved Plooto Network Payees.